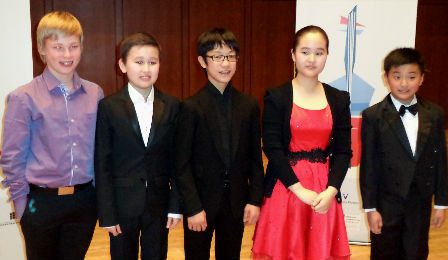 14 year old Rennosuke Fukuda, from Japan has just minutes ago been awarded 1st prize in the Junior Division of the 2014 Menuhin Competition.
2nd prize was awarded to 12 year old Daniel Lozakovitj, from Sweden - and 3rd prize to 14 year old Ludvig Gudim, from Norway.
A student of Machie Oguri, Rennosuke is a former 1st prize winner at the 2013 Kloster Schontal International Violin Competition.
4th Prize was awarded to 12 year old Alex Zhou from the United States - and 5th prize to 14 year old Jaewon Wee, from South Korea.
Rennusuke will receive US $7,000 – and the 1-year loan of a fine Italian instrument courtesy of Florian Leonhard Fine Violins.