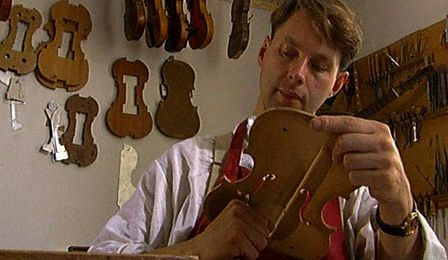 Acclaimed German violin maker Peter Greiner chats with Tarisio Director, Jason Price about the upcoming auction sale of a Greiner violin – the first in history to be sold under the hammer.
Peter counts virtuosi Christian Tetzlaff, Kim Kashkashian, Leonidas Kavakos, Ning Feng, Isabelle van Keulen and members of the Alban Berg Quartet among his clientele.
[video_lightbox_youtube video_id="3UMmTK6qhVQ" width="590" height="385" auto_thumb="1"]
PETER GREINER INTERVIEW | TARISIO AUCTIONS | JASON PRICE | JUNE 2014 LONDON SALE
The violin, Greiner's 131st was completed in 2004 - and is expected to sell for between £25,000–40,000 (US $43,000-68,000).'
The highest price on record paid for a living maker's violin stands at USD $132,000, set in 2013 for the sale of a Joseph Curtin & Gregg T. Alf Guarneri copy - previously owned by Ruggiero Ricci.
Bidding on the Greiner, lot 165 in Tarisio Auction's June 2014 London sale, ends June 23rd.
For bidding details, visit: http://bit.ly/1sonPSE
[video_lightbox_youtube video_id="A6ZIEA-nJT4" width="590" height="385" auto_thumb="1"]
NING FENG  INTERVIEW | TARISIO AUCTIONS | JUNE 2014 LONDON SALE
[video_lightbox_youtube video_id="GeOl9odCFfg" width="590" height="385" auto_thumb="1"]
FRANS GELMERSON  INTERVIEW | TARISIO AUCTIONS | JUNE 2014 LONDON SALE