BREAKING | 2022 Avery Fisher Career Grant Recipients Announced
Five outstanding musicians have been named as the recipients of the 2022 Avery Fisher Career Grants, which have been providing generous support to artists of exceptional potential since 1976.
This year's grant recipients are violinist Randall Goosby, cellist VC Young Artist Jonathan Swensen, saxophonist Steven Banks, percussionist Ji Su Jung, and pianist Mackenzie Melemed.
Each grant is valued at $25,000 and is to be used for career advancement and professional assistance.
166 talented young musicians have been recognized with the grants over the past four decades, including Nadja Salerno-Sonnenberg, Dmitry Sitkovetsky, Joshua Bell, Sarah Chang, Leila Josefowicz, and Alisa Weilerstein — along with VC Artists the Dover Quartet, Stephen Waarts, Stefan Jackiw, Augustin Hadelich, Tessa Lark, Benjamin Beilman, Francisco Fullana, Angelo Xiang Yu, Matthew Lipman, Zlatomir Fung, Richard Lin, Stella Chen, Kevin Zhu, Geneva Lewis, Sterling Elliot, and Paul Huang.
The 2022 selection is a historic one, as it marks the first year that either a saxophonist or a percussionist has received an Avery Fisher grant.
The recipients will be celebrated tonight at 6 PM (ET) at a special ceremony at WQXR's Jerome L. Greene Performance Space, in New York City – which will be streamed LIVE here on The Violin Channel.
"I am so honored, beyond belief, and incredibly happy to be one of this year's recipients," VC Young Artist Jonathan Swensen today told The Violin Channel. "Thank you to everyone who stood behind this decision!!!"
"I am incredibly honored to have been selected as a recipient of an Avery Fisher Grant," Randall Goosby told The Violin Channel. "The Avery Fisher Artist program has played a pivotal role in supporting a lineage of musicians who I feel privileged to be part of. I am grateful and look forward to sharing this incredible art form of classical music with everyone."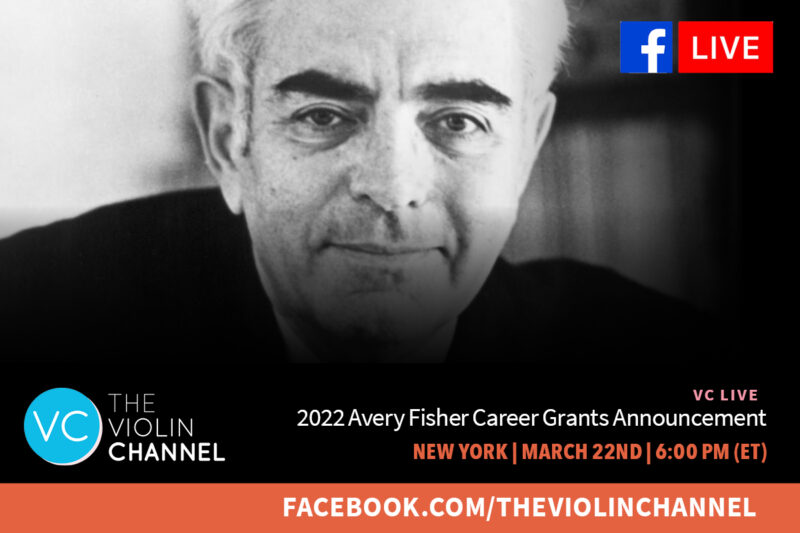 Signed exclusively to Decca Classics in 2020 at the age of 24, Randall Goosby is a graduate of The Juilliard School and is a prize winner at the Sphinx Organization Concerto Competition and the Young Concert Artists International Auditions.
A current student of Laurence Lesser at The New England Conservatory, VC Young Artist cellist Jonathan Swensen is a first prize winner at the Khachaturian International Cello Competition, Windsor International String Competition, and the Young Concert Artists International Auditions.
Percussion soloist Ji Su Jung is a first prize recipient at the 2018 Ima Hogg Competition of the Houston Symphony and previously served as a young artist in residence on NPR radio's Performance Today.
Saxophonist Steven Banks is a first prize winner at the Young Concert Artists International Auditions. He is also a co-creator of the Learning to Listen roundtable discussions on the nuances of the Black experience in classical music.
Pianist Mackenzie Melemed is a recipient of The Juilliard School's Career Advancement Grant and was named a laureate of the 2021 American Pianists Awards. He is also a prize winner at the China and Maj Lind International Music Competitions.