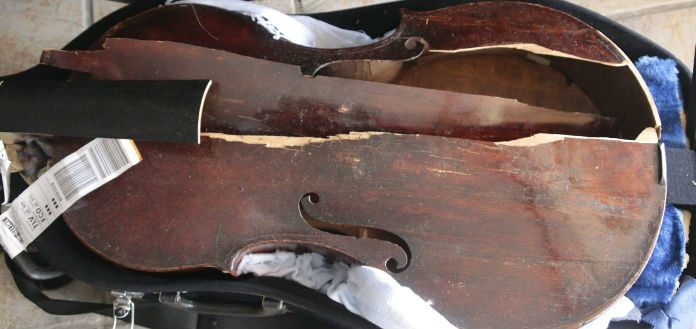 The Rome-based Alitalia Airlines has today issued an official statement following the circulation of disturbing images on social media, earlier this week, of a severely damaged 17th century viola da gamba - following a flight from Rio de Janeiro to Tel Aviv, on Wednesday morning.
"Alitalia hates musicians … this is how Alitalia delivered to me my original 17th century Lewis viola da gamba ... it was savagely vandalized," the irate owner, Israel-based early music specialist Myrna Herzog, posted on her facebook account.
In direct correspondence with The Violin Channel today, the Italian national airline has made claim Ms Herzog declined the carrier's request, at time of check-in, to purchase an extra seat for the US $200,000 antique instrument - however they will, once all facts are fully established, look to reimburse the musician in compliance with the international regulations.
Ms Herzog has asserted she was informed by airport officials at the boarding gate that no additional seats were available on the flight and that the instrument must be placed in hold - but that it will be safeguarded as a fragile item.
"We regret what happened with Mrs. Myrna Herzog and we are carrying out all necessary investigations," an airlines spokesperson has told The Violin Channel.
"However, generally speaking we would like to remind that for all bags exceeding the size limits allowed for cabin bags (8kg and 55 cm high, 35 cm wide and 25 cm deep), such as the musical instrument mentioned, it is necessary to purchase an "extra seat" during the booking procedure in case the passenger intends to avoid checking-in such delicate and/or valuable items. The extra seat, which is normally dedicated to passengers, allows to secure the item with the appropriate procedure."
"According to a preliminary investigation, no such request has been presented by the passenger neither during booking nor at the time of departure from Rio de Janeiro. During check-in operations according to the information available at the moment, the passenger was presented with the possibility to buy an "extra seat" but she refused and signed the limited release form (a disclaimer of liability) after being informed that the best solution for such a delicate item was to bring it with her in the cabin."
"That said, Alitalia deeply regrets what happened to Mrs. Herzog and will proceed, having established the facts, with the reimbursement in compliance with the international regulations in force."
Ms Myrna's original post has been shared more than 54,000 times.
The Violin Channel's October 2nd, 2014 coverage of Air Canada's inconsistent viola policy received over 4000 social media shares, 200,000 page views and 33,000 Facebook likes – leading to the airline promptly readdressing their stance.
The Violin Channel's February 3rd, 2016 coverage of Norwegian Air's instrument cabin policy received over 5000 social media shares, 360,000 page views and 40,000 Facebook likes – leading to the airline also promptly readdressing their stance.
Power to the people.