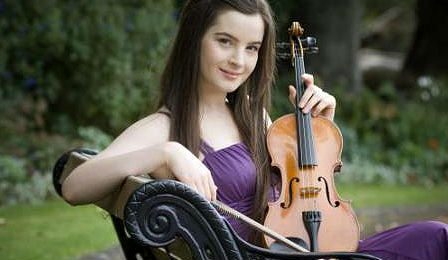 26 year old New Zealand violinist, Amalia Hall has been awarded 1st prize at the 2015 Leos Janacek International Violin Competition, in Prague, Czech Republic.
A grauduate of the Curtis Institute of Music, where she studied with respected pedagogues Pamela Frank and Joseph Silverstein, Amalia is a former prize winner at the Dinu Lipatti, Postacchini, Lipizer and Kloster Schontal International Violin Competitions.

2nd and 3rd prizes were awarded to Amelia Maszonska, from Poland - and David Mirzoev from the Czech Republic.
Amalia was also awarded the special prize for the 'Best Interpretation of a composition by Leos Janacek'.
Honourable mentions, in the violin category were presented to Henry Flory, from the United States  - and Eva Schaferova, from the Czech Republic.
In the String Quartet division, 1st prize awarded awarded to the Mucha Quartet, from Slovakia.
2nd and 3rd prizes were awarded to the Dolezalovo Quartet and the Selackovo Quartet, from the Czech Republic.
Honourable mentions were presented to the Tatatosk Quartet, from Norway and the Zerkalo Quartet, from Belgium.
Both category winners were awarded 100,000 CZK ($4,200 USD).