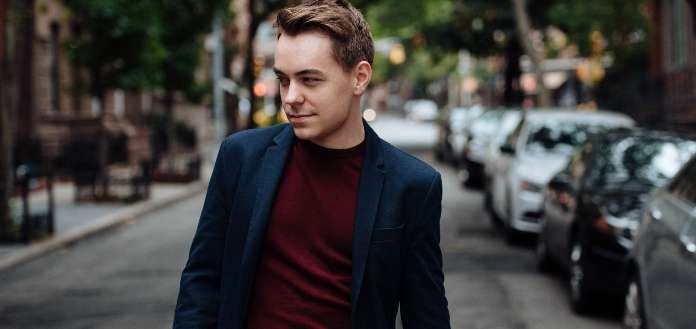 27-year-old American violist Matthew Lipman is firmly establishing himself as one of the new generation's outstanding young concert artists.
A graduate of The Juilliard School and the Kronberg Academy, where he studied with Heidi Castleman and Tabea Zimmermann, Matthew is former prize winner at the Lionel Tertis International Viola Competition and the Washington, Johansen and Stulberg International String Competitions – and is a former recipient of a prestigious Avery Fisher Career Grant.
His recent debuts include solo performances with the Minnesota Orchestra, Illinois Philharmonic, Grand Rapids Symphony, Wisconsin Chamber Orchestra, Juilliard School Orchestra, Ars Viva Symphony and the Montgomery Symphony Orchestra.
Matthew currently performs on a 1700 Mateo Goffriller viola, on generous loan from the Rachel Barton Pine Foundation – and holds a teaching position on faculty at Stony Brook University, in New York.
VC YOUNG ARTIST MATTHEW LIPMAN & HENRY KRAMER | ASSAD | METAMORFOSE | CHAMBER MUSIC SOCIETY OF LINCOLN CENTER | 2018
VC YOUNG ARTIST MATTHEW LIPMAN & HENRY KRAMER | BLOCH | SUITE HÉBRAÏQUE | 1ST MVT | CHAMBER MUSIC SOCIETY OF LINCOLN CENTER | 2018
VC YOUNG ARTIST MATTHEW LIPMAN & HENRY KRAMER | BOWEN | PHANTASY | CHAMBER MUSIC SOCIETY OF LINCOLN CENTER | 2018
VC YOUNG ARTIST MATTHEW LIPMAN | GARTH KNOX | FUGA LIBRE | WQXR | 2018
VC YOUNG ARTIST MATTHEW LIPMAN & HENRY KRAMER | PROKOFIEV | ROMEO AND JULIET (ARR. VADIM BORISOVSKY) | CHAMBER MUSIC SOCIETY OF LINCOLN CENTER | 2018
VC YOUNG ARTIST MATTHEW LIPMAN & HENRY KRAMER | SCHUMANN | MÄRCHENBILDER OP. 113 | 4TH MVT | CHAMBER MUSIC SOCIETY OF LINCOLN CENTER | 2018
VC YOUNG ARTIST MATTHEW LIPMAN | TELEMANN | CONCERTO IN G MAJOR FOR VIOLA, STRINGS, AND CONTINUO | 1ST MVT | CHAMBER MUSIC SOCIETY OF LINCOLN CENTER | 2017
VC YOUNG ARTIST MATTHEW LIPMAN | TELEMANN | CONCERTO IN G MAJOR FOR VIOLA, STRINGS, AND CONTINUO | 4TH MVT | CHAMBER MUSIC SOCIETY OF LINCOLN CENTER | 2017
VC YOUNG ARTIST MATTHEW LIPMAN & HENRY KRAMER | WAXMAN | CARMEN FANTASY | CHAMBER MUSIC SOCIETY OF LINCOLN CENTER | 2018
Name: Matthew Lipman
Viola: 1700 Matteo Goffriller – On loan from the Rachel Barton Pine Foundation
Bow: 1845 Dominique Peccatte | 2008 Stephane Thomachot
Strings: Larsen A | Thomastik Dominant D, G & C
Accessories: Mach One Shoulder Rest | Salchow & Sons Rosin  | Stretto Case Humidification System
Teachers: Heidi Castleman | Tabea Zimmermann | Roland Vamos
Instagram: @Melodiousmatt1
Twitter: @Melodiousmatt
Comments
comments