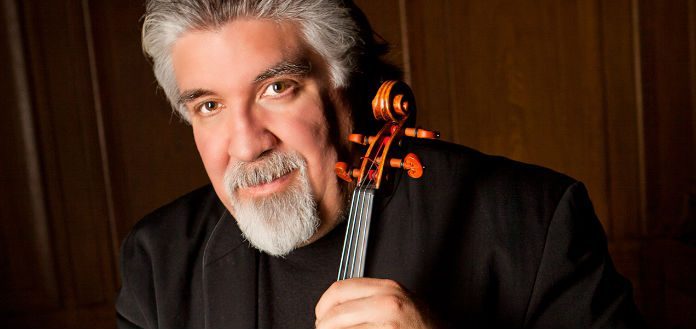 The Violin Channel recently caught up with Cuban-born violinist Andres Cardenes - who last month premiered a new violin concerto written for him by Venezuelan-born composer Ricardo Lorenz.
In a VC-exclusive blog, Andres talks us through his preparation for performing a new work - alongside a living composer.
"Preparing to premiere a new concerto presents unique challenges. I begin by looking over the score carefully, making sure the composer has orchestrated the work in a thoughtful and practical way. Oftentimes I make orchestration suggestions based on my own experience as a composer and conductor; making dramatic statements in orchestration can nullify a violinist's projection or audibility.
After carefully assessing the score's viability, I turn my attention to the violin part, where risk taking is (in my case) my focus, using the work as a conduit for virtuosity and lyricism. I carefully study the intuitiveness of the violin writing, assessing whether it feels natural and linear. I do a significant amount of editing, offering viable alternatives to what the composer has written, i.e. passagework that is more fluid, with less shifting or string crossing, or perhaps a passage that sequentially arrives at a climax more effectively. Bowings are scrutinized and changed to reflect more drama or add impact.
Once this process is well underway, the overall scope of the work is then analyzed. How do I shape the contour of the entire work? How do I alter the indicated tempi to better suit the pacing of the piece, etc? Since there is no recording of the work, one's imagination must work on overdrive. A premiere sets the standard and blueprint for all future performers and performances. In the case of the Lorenz Concerto, a photo of a sour-looking Fidel Castro was the inspirational centerpiece of the piece. Working from the photo, as well as the score and violin part, imagination began to fill in the spaces of interpretation and concept. My own Cuban roots were helpful in grasping the severity of the photo and its political and social implications.
Integrating all these elements - technique, orchestration, virtuosity, lyricism, concept, architecture and the drama of the photo - leads to the final phase, which is to present the composer with a final (yet still malleable) product for discussion and approval. While dialogue between me and the composer is maintained throughout the entire process, it is not until the actual first hearing that we know whether all the components are in place properly and will be successful. This recording with the River Oaks Chamber Orchestra, which we actually performed with no conductor, is the first comprehensive integration of both Ricardo Lorenz's composition with my edits. No doubt the work will continue to evolve over many years, but the hardest part is over. Now it's time to live with the music for a long time.
-Andres"