VC INTERVIEW | Anne-Sophie Mutter - March 4th's World Premiere of Sir André Previn's 'The Fifth Season'
VC recently caught up superstar violinist Anne-Sophie Mutter to discuss her upcoming world premiere performance of composer Sir André Previn's 'The Fifth Season'
The Violin Channel recently sat down with German violin virtuoso Anne-Sophie Mutter as she was in final preparations for her upcoming US tour - including the world premiere performance of Sir André Previn's 'The Fifth Season for Violin and Piano' at New York's Carnegie Hall on the 4th of March, with longtime piano collaborator Mr Lambert Orkis.
Thank you for joining us Ms Mutter, could you please tell us a little about this exciting new addition to the violin repertoire? What should we expect?
"Thank you so much. Wonderful to speak with The Violin Channel again.
I would say 'The Fifth Season' is rather lighthearted, as opposed to André's last work I premiered, his concerto for violin and string orchestra - which was a very deep piece.
'The Fifth Season' is virtuosic but in a somewhat patchwork type way. It is not a sonata, but a one-movement work with jazz and gypsy-like rhythmical elements - which starts with a fully improvisational cadenza.
André has indicated to me that perhaps he could have called this new work 'a fantasy' - due to its very lucid nature."
Sounds fascinating. How did this opportunity come to you? 
"After I premiered André's violin concerto back in 2002 in Boston, I asked him to work on a concerto for a baroque-sized orchestra - which of course he did for me in Trondheim in 2012.
Having immersed himself in writing for the violin, he then expressed interest in also working on this piece for violin and piano - but he was clear he wanted to move away from the traditional classical sonata style.
Like most composers I have worked with, André's mind is always looking for a new style to work in - a search for a fresh approach."
Throughout your illustrious career, you have introduced more than 25 new additions to the violin repertoire - including important contemporary pieces by Sebastian Currier, Henri Dutilleux, Sofia Gubaidulina, Witold Lutosławski, Norbert Moret, Wolfgang Rihm, Krzysztof Penderecki and others. Why is contemporary music personally so important to you?
"I find new music extremely challenging and frightening ... but also invigorating and very gratifying.
It always fascinates me that after all these centuries, there are still composers who are able to successfully reinvent our language - and invoke new, and unheard emotions and excitement.
I also think it's incredibly important for contemporary music to offer us a fresh outlook on our lifetime, in history - and I feel we need audiences to be challenged, excited - and even offended."
During your upcoming US recital tour, which you have dedicated to the celebration of your close collaborator Krzysztof Penderecki's 85th birthday, you will perform a selection of works by Penderecki, Brahms and Previn with pianist Mr Lambert Orkis - with whom you have performed regularly since 1988, this now your 30th season. Why do you feel this collaboration with Mr Orkis has been so successful?
"Over the years I have played with many great pianists, but Lambert and I have a very special collaboration.
We can trust each other to listen and to feel and react to what the music is saying to us.
We both bring such different view points from our very different cultural roots - which makes the process of rehearsing and performing together invigorating and exciting.
I'm very grateful for the decades of amazing music-making - and I'm so thankful he too shares a keen interest in contemporary works.
I hope we will continue to play together for many years to come."
How do you and Mr Orkis prevent traditional repertoire from becoming stale after such a long time playing together?
"Well, that's impossible - we are both excitable people and I can say no performances are ever the same.
One can never control a piece by someone like Beethoven - but only try and bring out different aspects of his musical genius from the complexity of his score.
You can never bring everything to life in any one moment - so each evening is a chance to find another element to highlight."

Ms Mutter, why is chamber music personally so important to you?
"Because, chamber music is often the repertoire that many composers come back to - often at the very end of their lives.
I find it's like a harvest of their total musical experience - producing some of the most exciting and profound works.
Of course I'd never dismiss the solo repertoire, but for me, chamber music is equally as important - and I find it deeply satisfying."
You recently released a new chamber music album on the Deutsche Grammophon label, featuring Schubert's 'Trout Quintet' with rising pianist Daniil Trifonov - and a number of emerging artists from your Mutter Foundation. How did you enjoy this experience?
"Honestly - it was really super cool!
I met Daniil a little while back in Munich, and I asked him if he'd like to spend an hour with me reading some chamber works.
We worked through a few Mozart and Brahms sonatas - and boy, was it high voltage playing.
When the opportunity came up to work together on 'The Trout' project, it was wonderful - and we were musically very much on the same page.
Daniil brought freshness, delicacy, subtlety and lightness - but depth, to the Schubert works.
It was a wonderful collaboration and I enjoyed it very much."
Do you feel it's important to collaborate with other artists at different life and career stages to yourself? 
"Of course!
All your life, you will collaborate with people on different moments of life so this is totally normal … we start out very young, and obviously conductors are older than you, and eventually with time the musicians around you become younger and less experienced than you.
For me, everything's about give and take, and I've always found it extremely interesting in my private life, and my musical life, to collaborate with people of different life stages and cultures.
There are many ways to think about the same subject and always many solutions. Music is a great school for life."
Couldn't agree more. What other upcoming recordings do you have planned? And, what concerts and charity initiatives are you most looking forward to in 2018?
"I have a recording of Krzysztof Penderecki's 2nd Violin Sonata coming out very soon.
I also have a very exciting recording project in mind that I hope is going to happen. I can't say anything more about it for now - but it will be very different from anything I've done before.
Also, along with André Previn's world premiere on the 4th of March, I will also be involved with the world-premiere performance of American composer Sebastian Currier's 'Ghost Trio' later this season - in celebration of his 60th birthday.
I also have an exciting benefit concert coming up with the Daniel Barenboim Foundation, in Germany, where half of the proceeds will go to two orphanages in Romania, which I support, and half to Daniel's foundation.
I will also host a concert later in the year for my foundation, with all proceeds going directly to building homes for people with special needs. I strongly believe people with special needs must take center stage."
Wonderful. Why is giving back so important to you at this stage of your career?
"I think it's completely normal and natural ... and we all need to share each other's burdens - especially when we have been given the great fortune of living our dream lives.
Music is much more than just perfecting skills for a concert, it's an ability in many ways, to lighten the burden for others."
Thank you so much Ms Mutter, for your time and thoughtful insights. We look forward to your recital on Friday the 2nd of March at the Sonoma State University - and for your world premiere performance of Sir André Previn's 'The Fifth Season for Violin and Piano' at New York's Carnegie Hall on Sunday the 4th of March.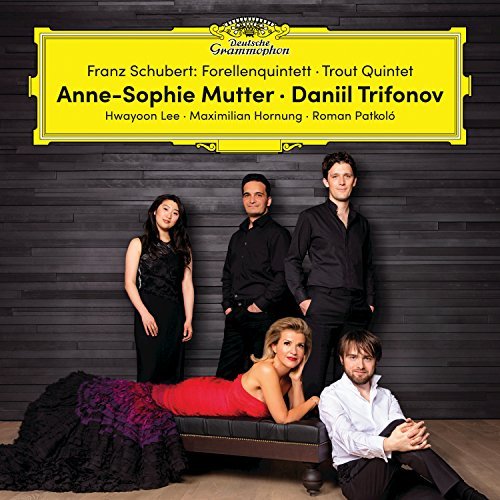 PHOTO CREDIT: DARIO ACOSTA/DEUTSCHE GRAMMOPHON