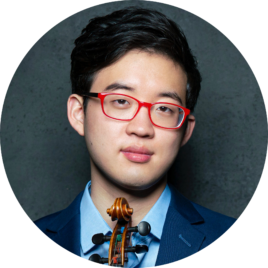 Korean-American violinist Julian Rhee is quickly gaining recognition as an emerging artist and performer.
Julian is the Silver Medalist of The 11th Quadrennial International Violin Competition of Indianapolis, winner of Astral Artists' National Auditions, the first prize winner of the 2020 Elmar Oliveira International Competition, where he was also awarded the special Community Award, the 2018 Johansen International Competition for Young String Players, Aspen Festival Concerto Competition and the Aspen Festival's Dorothy DeLay Fellowship. He was selected as a 2018 U.S. Presidential Scholar and received his medal at the White House.
An avid soloist, Julian has performed with orchestras such as the Santa Rosa Symphony, Pittsburgh Symphony, Aspen Philharmonic, Eugene Symphony, San Jose Chamber, Madison Symphony, Avanti Symphony, West Suburban Symphony, Wisconsin Philharmonic, Lacrosse Symphony, the Wisconsin Chamber, San Diego Symphony, among others.
A passionate chamber musician, Julian's performance on violin and viola earned him first prize in the Fischoff and the M-Prize Chamber Competitions. He has performed at and attended festivals including the Heifetz, Four Seasons, Ravinia Steans Institute, Rockport Music, and Northshore Chamber Music Festivals. He has also appeared alongside Time for Three, Jupiter Chamber Players, 98.7 WFMT's Introductions, Milwaukee Public Television, and Wisconsin Public Radio and Television.
Julian studied with Hye -Sun Lee and Almita Vamos at the Music Institute of Chicago Academy. He is currently pursuing a Master's degree with Miriam Fried at the New England Conservatory.
Julian is the recipient of the outstanding 1699 "Lady Tennant " Antonio Stradivari violin on the extended loan through the generosity of the Mary B. Galvin Foundation and the efforts of the Stradivari Society, a division of Bein & Fushi, Inc. The Mary B. Galvin Foundation, Inc. and the Stradivari Society support the very highest level of string playing by loaning precious antique Italian instruments to artists of exceptional talent and ability.
What would be your dream gig?
Jamming out with Bruno Mars
What is a song that makes you turn the radio up?
Queen's Don't Stop me Now or SZA's Kill Bill
What would you say makes you unique as a musician?
I try to spend as much time as possible pouring over the text, planning out how things fit together in a narrative, and ensuring every note I'm playing is communicating something. I don't think this approach makes me unique, but I do believe that musicians that take the time to develop their thoughts and feelings about each piece will lead us all to come to our own unique conclusions and interpretations.
Do you keep all 3 meals phone free? No social media scrolling.
Only when I'm eating with a friend! I should put the phone away, but when I'm eating by myself, I tend to have some youtube video playing as my entertainment (usually basketball highlights). I'm not huge on social media scrolling :p

Born On July 28, 2000

Born in United States

United States

Violin 1699 "Lady Tennant" Antonio Stradivari on generous loan through the efforts of the Stradivari Society, Bein and Fushi, and the Mary B. Galvin Foundation
Bow Jean Marie Persoit 1810

Education
New England Conservatory | Music Institute of Chicago Academy

Teachers
Miriam Fried | Hye -Sun Lee | Almita Vamos

Notable awards/competitions won
Silver Medal at the 11th Quadrennial Indianapolis Competition | 1st Prize at the 2020 Elmar Oliveira International Violin Competition | Winner of Astral Artists' National Auditions