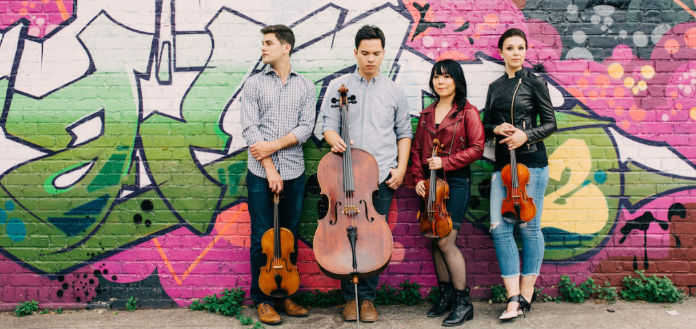 The Violin Channel recently caught up with VC 'Artist' Andrew Yee - cellist with the New York-based Attacca Quartet.
In a VC-exclusive blog, Andrew talks us through the ensemble's ambitious 6-year project to present all 68 string quartets of Franz Joseph Haydn - culminating on May 12th, at the Holy Trinity Lutheran Church, in New York City.
"It was a cold evening in Harlem. I was out for a walk with my dog, Chopper. We had passed the local Chinese place, we walked past the handball court, we walked past brownstones and projects. Chopper tugged on the leash hoping his 14 pound body could drag me to the park several blocks to the east. But we didn't go that way, we actually weren't walking at that point anymore. The slow movement of Haydn's string quartet op. 20 no. 3 was playing on my big headphones, and I was in tears in the middle of the sidewalk.
It wasn't just this one night that convinced me to come up with the idea to play the complete Haydn quartets. I had hatched a plan to listen to as many of his quartets as I could while I was walking my dog. It was a private plan, and one that made me very happy. I had gotten my hands on several sets of Haydn recordings of the Austrian Quatuor Mosaïques, and was quickly devouring them day by day. Most of the pieces were new to me. As a conservatory student, there were really only about ten to fifteen Haydn quartets that were played with any sort of regularity. Op. 20 no. 3 was a new one to me.
As I stood there on the sidewalk that night, a thought occurred to me. "Why don't people play all of these?" The answer must be pure intimidation. There are 68 Haydn quartets (plus the Seven Last Words of Christ on the Cross), which dwarfs any other composers output. The very most ambitious of composers put out 15 or 16 string quartets in their lifetime. When choosing a quartet of Haydn's to play, are you going to read all 68, or are you going to choose one you know?
After the movement was over I collected my thoughts and called Amy first. She is our first violinist, and her parts would prove to be the Mt. Everest of this project. I said "How would you feel about performing all of the Haydn Quartets in concert?" Without pausing she said "Absolutely, yes." Everyone else agreed with the same excitement. We all knew it was a big project, and would take a long time, but we had no idea how important this decision would be for us spiritually.
We learned the op. 17s are the unfairly overshadowed opus behind the heralded op. 20s. We learned that if the opus begins with 5 (ie. 50, 51, 54, 55) then it will be a pain in the ass for Amy. We learned that the op. 2s are not so good (Sorry FJ). We learned that over 200 years after his death, his music was so personal and clear that we could laugh and cry at the drop of of a hat while reading almost any of his quartets.
Over the course of the six year journey, the Haydn concerts became our happy place. It meant that rehearsals for the two weeks leading up to the concert would be almost exclusively Haydn, and that meant getting to play this rich, joyous music every day, and walk down the street humming it. I am thinking of writing a book called "The Haydn Quartet Effect, how to improve your life 20 to 22ish minutes at a time".
Every reading session was an event. If we were going to read Haydn, we had to have a bottle or two of wine open. Playing Haydn is a very social occasion. It is often conversational, and no part is ever divorced from the reins. We would often joke around pretty heavily during funny movements, and always took note of when we made someone laugh. It always amazed me how genuinely funny some of that music was. It wasn't just unexpected, or weird sounding, it functioned like a really good joke sometimes. If we could bottle that feeling and get the audience to laugh out loud, it meant we had done our job. It was the greatest feeling. There were an equal amount of slow movements where we decided not to talk afterwards because we were all about to lose it.
We just had our last reading day, and the last piece we read was his very first quartet, op 1 no. 1. When it was over I poured myself another glass of wine and had an overwhelming feeling of loss. Never again would I read a Haydn quartet for the first time. Then I thought back to that cold night standing under the yellow street lamp with my dog. I imagined a world where I had wiped away the tears and shrugged it off as a long day and none of this had happened. Then I took a sip of wine and knew I was living in a better world.
- Andrew"