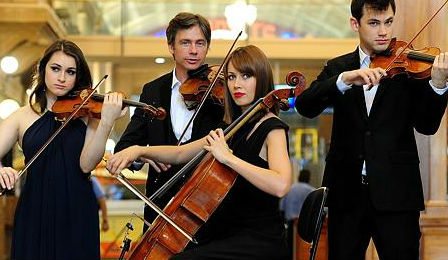 The Australian String Quartet's Board of Directors have today announced 1st violinist Kristian Winther and 2nd violinist Ioana Tache are set to leave the ensemble, at the end of the current season – citing "irreconcilable artistic differences" among its members.
"The current line-up will not continue beyond 2014," ASQ's Chairman Paul Clitheroe has said, " [and] ... after careful consideration, the Board of the ASQ has appointed violist Stephen King and cellist Sharon Draper to lead the Quartet into the future."
Historically unstable as a group, cellist Sharon Draper and 2nd violinist Ioana Tache joined the Adelaide-based ensemble at the beginning of the current 2014 season – after the departures of 2nd violinist Anne Horton and cellist Rachel Johnston.
"Of course I would have liked to have stayed but a decision's been made," Winther, the group's leader has told News Limited.
"Everyone is disappointed in the situation at the end of the day," he added.
Kristian Winther and Ioana Tache were recently married - after a brief courtship.
The Guadagnini instruments, played by the couple will remain with the ASQ.
The ASQ was started by Adelaide University's Elder Conservatorium - and receives funding from both State and Federal resources.