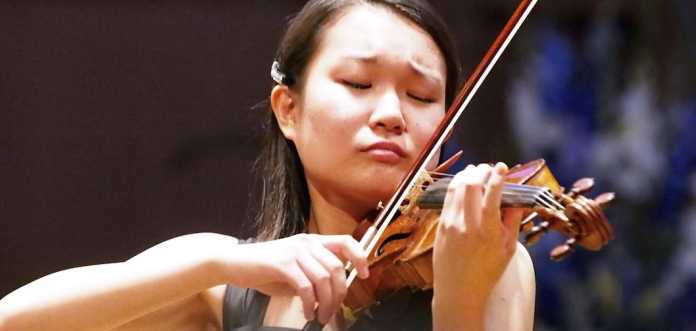 17 year old Japanese VC 'Young Artist' Ayana Tsuji is quickly building an international reputation as a rising young virtuoso of outstanding potential.
A student of Professor Koichiro Harada, at the Tokyo College of Music High School, Ayana is a recent major prize winner at the Seoul, Munetsugu Angel, Hannover and Indianapolis International Violin Competitions.
[video_lightbox_youtube video_id="pzL1-Qx_vus" width="590″ height="385″ auto_thumb="1″ ]
AYANA TSUJI | SIBELIUS  | VIOLIN CONCERTO | 2015 JOSEPH JOACHIM INTERNATIONAL VIOLIN COMPETITION HANNOVER
Her recent solo debuts include performances with the Nagoya Philharmonic, Kanagawa Philharmonic, Osaka Symphony, Central Aichi Symphony, Yokohama Sinfonietta, Tokyo City Philharmonic, Chubu Philharmonic, Czech Philharmonic Chamber Orchestra and the Sejong Soloists.
AYANA TSUJI | MOZART | VIOLIN CONCERTO NO. 3 | 2015 JOSEPH JOACHIM INTERNATIONAL VIOLIN COMPETITION HANNOVER
[video_lightbox_youtube video_id="eM3r5HWlNl8″ width="590″ height="385″ auto_thumb="1″ ]
AYANA TSUJI | BACH | PARTITA IN B MINOR | 2015 JOSEPH JOACHIM INTERNATIONAL VIOLIN COMPETITION HANNOVER
[video_lightbox_youtube video_id="BG3TK7vW_zE" width="590″ height="385″ auto_thumb="1″ ]
AYANA TSUJI & THOMAS HOPPE | STRAVINSKY | DUO CONCERTANTE | 2015 JOSEPH JOACHIM INTERNATIONAL VIOLIN COMPETITION HANNOVER
[video_lightbox_youtube video_id="OpCcUry28q0″ width="590″ height="385″ auto_thumb="1″ ]
AYANA TSUJI | ROBERT COLEMAN | >CUT-UP< | 2015 JOSEPH JOACHIM INTERNATIONAL VIOLIN COMPETITION HANNOVER
[video_lightbox_youtube video_id="MmPibkgQnAc" width="590″ height="385″ auto_thumb="1″ ]
AYANA TSUJI & THOMAS HOPPE | SAINT-SAENS | INTRODUCTION ET RONDO CAPRICCIOSO | 2015 JOSEPH JOACHIM INTERNATIONAL VIOLIN COMPETITION HANNOVER
[video_lightbox_youtube video_id="T_1YB_5quyY" width="590″ height="385″ auto_thumb="1″ ]
AYANA TSUJI & THOMAS HOPPE| BEETHOVEN | SONATA FOR VIOLIN & PIANO IN A MAJOR, OP. 30 NO. 1 | 2015 JOSEPH JOACHIM INTERNATIONAL VIOLIN COMPETITION HANNOVER
Comments
comments