BREAKING | Finalists Announced at Canada's Banff International String Quartet Comp
The three ensembles progressing to the Final Round of the 2019 Banff International String Quartet Competition have been announced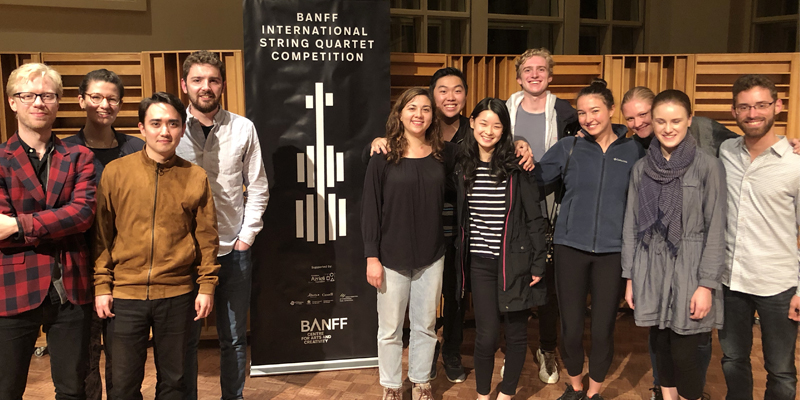 The three ensembles progressing to the Final Round of the 2019 Banff International String Quartet Competition have just minutes ago been announced - in Banff, Alberta, Canada.
The 2019 Finalists are:
Callisto Quartet (USA)
Marmen Quartet (UK)
Viano String Quartet (Canada / USA)
Open to string quartets with all members under the age of 35, the 1st prize winning ensemble will receive CAD $25,000 – plus a number of mentorship and international performance opportunities, including a two year paid residency at the Meadows School of the Arts at the Southern Methodist University.
For the Final Round each quartet will perform one complete work of Beethoven.
CALLISTO QUARTET

Schubert String Quartet No.14 'Death and the Maiden' - 1st Mvt
Thomas Ades - 'The Four Quarters' - Serenade: Morning Dew
Bartok String Quartet No. 6 - Mesta & Burletta
Ravel String Quartet in F Major - Vif et agite
MARMEN QUARTET

Salvatore Sciarrino String Quartet No. 7
Schubert String Quartet No. 15 in G Major - 1st Mvt
VIANO STRING QUARTET

Thomas Ades - 'The Four Quarters' Op. 28
Schubert String Quartet No. 15 in G Major - 1st Movement
The 2019 competition jury comprises: Gillian Ansell, Martin Beaver, Adrian Fung, David Harrington, Nobuko Imai, Philip Setzer and Ursula Smith.
Previous 1st prize winners include the Cecilia String Quartet, Rolston String Quartet – and the VC Artist Dover Quartet.
As the competition's official 2019 international media partner, The Violin Channel will be providing streaming coverage – live from all venues.
Join us backstage.