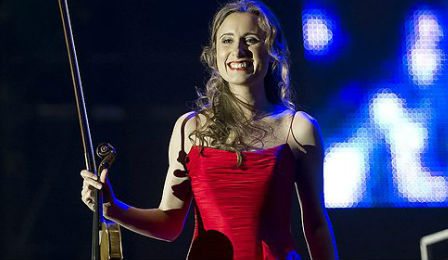 The Category Finalists for the 2014 'BBC Young Musician of the Year' Awards have been announced.
Widely regarded as the UK's leading competition for young classical music soloists 18 years and younger, previous winners include violinists Nicola Benedetti - and VC 'Young Artist' Jennifer Pike.
[video_lightbox_youtube video_id="fuqcO2uoEek" width="590" height="385" auto_thumb="1" ]Jennifer Pike | 2002 'BBC Young Musician of the Year' | Mendelssohn Violin Concerto | Sir Andrew Davis | BBC Symphony | 12 Years Old
Strings: William Dutton (18, Violin), Anna Im (16, Violin), Elizaveta Tyun (18, Violin), Roberto Ruisi (17, Violin) & Juliana Myslov (17, Harp).
Keyboard: Martin Bartlett (17, Piano), Ning Hui See (17, Piano), Hayley Parkes (18, Piano), Julian Trevelyan (15, Piano) & Isata Kanneh-Mason (17, Piano).
Woodwind: Hannah Foster (17, Flute), Daniel Shao (18, Flute), Jessika Gillam (15, Saxophone), Nick Seymour (17, Saxophone) & Sophie Westbrooke (15, Recorder).
Brass: Ellena Newton (14, Trombone), Isobel Daws (14, Trombone), Matilda Lloyd (18, Trumpet), Lewis Bettles (18, Trombone) & William Thomas (13, Trumpet).
Percussion: Matthew Farthing (17), Elliott Gaston-Ross (15), Jess Wood (16), Tom Highnam (17) &
Stefan Beckett (18)
The category finals will take place on the 3-7 March at the Royal Welsh College of Music and Drama – with the Grand Final to be held on 18 May at Usher Hall in Edinburgh.