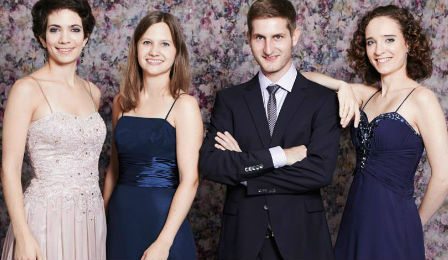 The Swiss-based Belenus Quartet have been awarded 1st prize, in the string quartet category of the 2015 International Franz Schubert and Modern Music Competition, in Graz, Austria.
2nd Prize was awarded to the Lyskamm Quartet, from Italy – and 3rd prize presented to the Quartet Berlin-Tokyo, from Japan-Israel.
Founded in 2004, by violinists Seraina Pfenninger and Anne Battegay, violist Esther Fritzsche and cellist Jonas Vischi, the Belenus Quartet are former 1st prize winners at the Orphues Swiss and Sandor Vegh International Chamber Music Competitions.
They will receive €18,000 (US $21,000).
In the Piano Trio division, no 1st prize was awarded - however 2nd and 3rd prizes were awarded to the Atanassov Trio from France and the Jade Trio from South Korea.