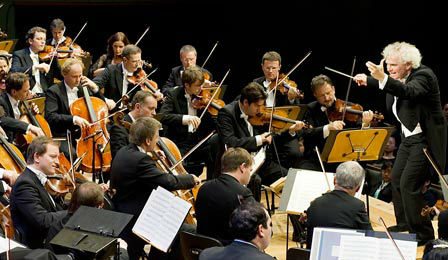 Following eleven hours of closed door discussions yesterday, it's been announced that the 123 members of the Berlin Philharmonic have been unable to reach a decision on who should be the orchestra's next Chief Conductor and Artistic Director.
Current Chief Conductor Sir Simon Rattle will stand down at the conclusion of the 2018 season – to assume his newly appointed role as Music Director with the London Symphony Orchestra.
It is not clear whether they were deadlocked or unable to reach a majority vote.
Berlin Philharmonic board member, Peter Riegelbauer has indicated that the ensemble would like to try again 'within a year'.
Possible successors are believed to be 37 year old Latvia conductor Andris Nelsons, 34 year old Venezuelan Maestro Gustavo Dudemel - and Berlin-native, 58 year old Christian Thielemann.