Carnegie Hall's National Youth Ensembles Return to Live Performances
This summer marks the first time the ensembles have been able to play at the hall, and internationally, since 2019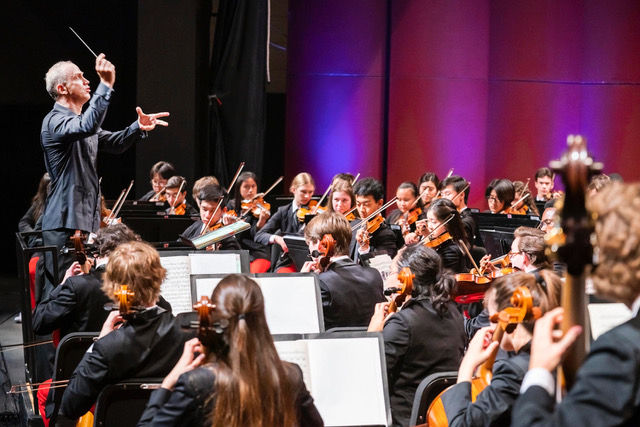 Carlos Miguel Prieto conducting NYO-USA (Photo credit: Chris Lee)
New York City's Carnegie Hall continues its summer program, showcasing emerging teen musicians in three acclaimed national youth ensembles: the National Youth Orchestra of the United States of America (NYO-USA), NYO2, and NYO Jazz. The program now has over a hundred new members hailing from across 34 U.S. states.
The ensemble members are currently in a two-week intensive training residency at Purchase College, State University of New York (SUNY) with faculty made up of principal players from leading orchestras and top jazz musicians. Each group will perform in Carnegie Hall's Stern Auditorium/Perelman Stage with world-class artists from July 28–August 1, 2022.
To kick things off on July 28, Sean Jones will lead NYO Jazz in works featuring GRAMMY Award-nominated vocalist Jazzmeia Horn. The program includes composers such as Endea Owens and a new Carnegie Hall-commissioned work from Darcy James Argue. Following their Carnegie Hall performance, the ensemble will embark on its first U.S. tour, making debuts across seven U.S. states. 
On July 29, performing Elgar's Cello Concerto and Mahler's Symphony No. 5, NYO-USA will be led by conductor Daniel Harding and feature solo cellist Alisa Weilerstein. Comprised of musicians aged 16-19, NYO-USA will then embark on a European tour. They will perform at infamous European venues such as Amsterdam's Royal Concertgebouw and the Konzerthaus Berlin, as well as make their debut appearances at the Ravello Festival and the Lucerne Festival.
"We are thrilled that the National Youth Orchestra of the USA will return to touring this summer under the baton of Daniel Harding," said Clive Gillinson, Carnegie Hall's Executive and Artistic Director.
"Coming out of a very challenging two years, connecting through music with people from across all areas of the world feels more meaningful than ever. This summer promises to offer truly memorable life-changing experiences, as these young musicians perform on some of the world's greatest stages and serve as dynamic ambassadors for our country."
On August 1, conductor Mei-Ann Chen will conduct NYO2 musicians aged between 14–17 in Soul Force by Jessie Montgomery, Rachmaninoff's Symphonic Dances, and Gershwin's Piano Concerto with pianist Aaron Diehl.
Prior to this, from July 26–30, NYO2 will travel to Miami Beach for a six-day residency and perform at the New World Center on July 30. They will be joined on stage by the New World Symphony (NWS) Fellows, who are also coaching in NYO2's training residency.
"The opportunity to work with NWS Fellows and learn from conductor Mei-Ann Chen and pianist Aaron Diehl will be transformative for these students," Gillinson said in a press release. "We hope they will return home to their communities inspired to further develop their playing and use music to connect with audiences everywhere."
For both NYO-USA and NYO2, it is their first time back in Carnegie Hall and on tour since 2019 — having patiently waited for three years while the pandemic continued to wreak havoc on international travel and the opening of concert venues. 
Carnegie Hall's Weill Music Institute first launched NYO-USA in 2013 and introduced NYO2 in 2016 and NYO Jazz in 2018. These groups have performed in leading concert halls in 15 countries across Europe, North America, South America, and Asia while collaborating with internationally renowned conductors and guest soloists.