London's Castalian Quartet Awarded Inaugural Merito & Erben Career Development Bursary
The Castalian String Quartet has been announced as the inaugural recipient of the 2018 Merito String Quartet Award/Valentin Erben Prize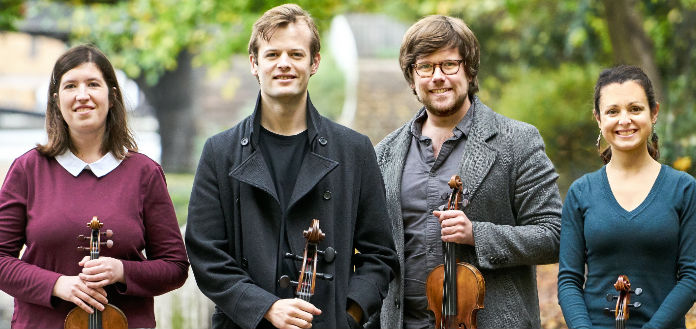 The Castalian String Quartet has today been announced as the inaugural recipient of the 2018 Merito String Quartet Award/Valentin Erben Prize.
Awarded for the first time by financier Wolfgang Habermayer, owner of Merito Financial Solutions, and Valentin Erben, founding cellist of the Alban Berg Quartet, the London-based ensemble will receive €20,000 to be used for career and professional development - and an additional €25,000 to be used towards recordings and new commissions.
Comprising violinists Sini Simonen and Daniel Roberts, violist Charlotte Bonneton and cellist Christopher Graves, the Castalian Quartet is a former major prize winner at the Banff and Lyon International String Quartet Competitions - and was recently awarded a prestigious 2018 Borletti-Buitoni Trust Fellowship.
CASTALIAN STRING QUARTET | SCHUBERT | STRING QUARTET IN C MINOR
There is no application process or competition ... but instead a secret jury of professionals observing a shortlist of ensembles during the course of an entire year, the organisers have told The Violin Channel.
"The critical factor for us is how the young musicians behave in everyday life on the concert stage … we will now accompany and support the winning quartet professionally for four years to secure success on the international stage," bursary founder, Wolfgang Habermayer has said.
The award will be presented on the 23rd of April at the Wiener Konzerthaus, in Vienna.
PHOTO CREDIT: KAUPO KIKKAS