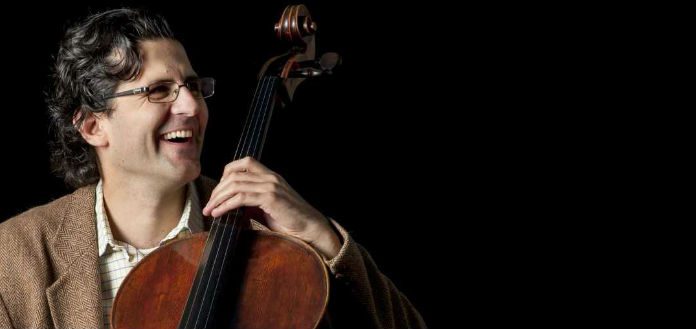 The Violin Channel recently caught up with Peabody Institute faculty member, Israeli-American cellist, Mr Amit Peled.
In a VC-exclusive blog, Amit discusses the inspiration behind his new cello technique book, 'The First Hour - A Cellist's Daily Technical Regimen'.
"I am very excited to share my recently released book The First Hour, a collection of patterns, exercises, and scales for advanced cellists. I have always felt that we, cellists, lacked the systematic technical practice approach that exists for the violin. Over the years I have collected ideas from my teachers and musical heroes to develop my own method. I feel strongly that all cellists should begin their practice regime with a system of technical exercises – it's the cello version of waking up, taking a shower, and brushing your teeth in the morning.
An important component of my teaching is the use of a system of images, or emoticons, that convey the most essential elements of advanced cello technique. In working with students at Peabody Conservatory, I have explored how to effectively and efficiently communicate the gestures, movements, and motions that build a lifelong foundation of technical security and ease. An important part of my system is a special cello vocabulary, which you can use, alongside the corresponding emoticons, to help yourself develop and recall different techniques. The "cello emoji" are symbolic images that will give you a virtual toolbox to address issues as they come up, and hopefully take your performance to the next level.
Examples of Exercises Detailed in The First Hour
DINNER POSTURE:
In his autobiography, Daniel Barenboim talks about how his father taught him to
sit at the piano as though he were having dinner. I use the same idea on the cello:
1. Put down your bow and pick up a fork or glass in its place. Pretend to eat or drink. Notice how the palm of your hand is higher than your elbow.
2. Mimic that feeling with your bow, in fourth position and at the frog, with low, relaxed elbows.
3. Many cellists lift their elbows up to nose height, particularly when trying to create a juicy sound low on the C string. It isn't necessary, and it creates so much tension! Play a low D with your elbows up, then in dinner posture, and notice how different it sounds.
THE THREE ELEMENTS OF THE SHIFT:
These three emoji represent the basic rules of how we move from one position to another.
1. A Circular Motion: The elbow is creating a full circle that initiates the journey up or down the cello.
2. The Guided Finger: The finger that we have just played with always guides us to the new position, thus becoming our "cello GPS."
3. The Cobra: The arrival finger landing freely from above, just as a cobra would strike its target.
CHICKEN WING:
With your right elbow, imitate the movement of a chicken (like the dance), thus developing complete freedom and roundness in sound.
STRAWBERRY:
Imagine gently holding a strawberry between your thumb and second finger... and then replace it with the cello neck.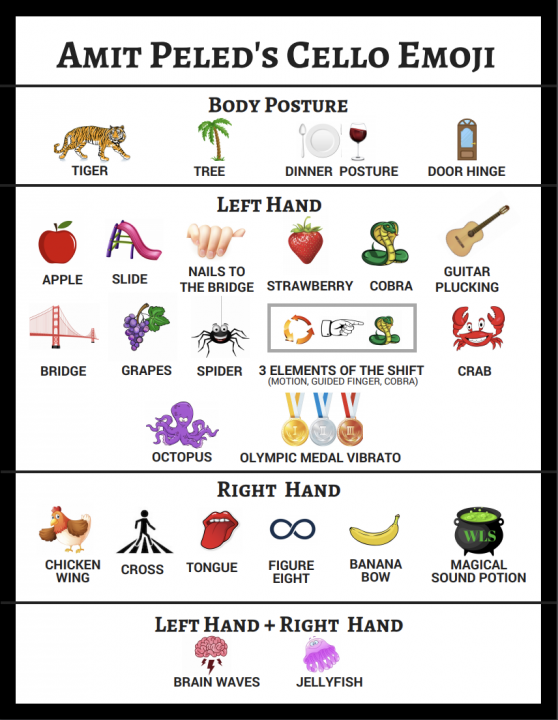 Here is a video guide to accompany The First Hour:
Spend the first hour of every practice session on systematic technical work, before moving on to pieces – even if all you have is one hour altogether before an important rehearsal or concert. If you move your body in response to the bow, keep breathing, with your elbows low and relaxed, and stay flexible in the lower back, you will find it far easier to stay in tune and in time, and to make a good sound. Also, try to verbalise what you do. If you say what you want to do out loud before you do it, it will help you to remember the rules, prepare each action and do what you mean to do more effectively. This will help you to play with more control, in time, in tune and with a better quality of sound. Happy practicing!
 Israeli-American cellist Amit Peled currently serves a teaching professorship on faculty at the Peabody Institute at Johns Hopkins University and performs regularly as a member of the Tempest Trio - with pianist Alon Goldstein and violinist Ilya Kaler | He currently performs on the 1733 'ex-Pablo Casals' Matteo Goffriller cello