Russian Cellist Anastasia Kobekina Loses Concert Engagement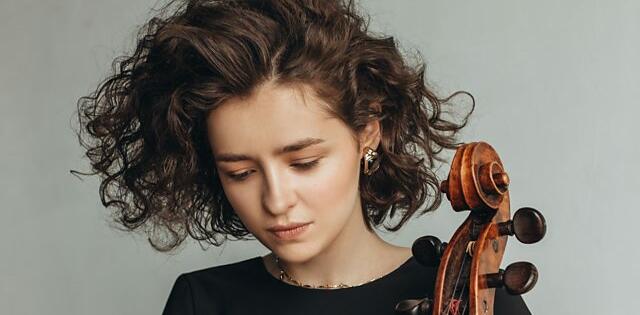 (Photo credit: Julia Altukhova)
In light of the war in Ukraine and political debate around Russian artist representation, Switzerland's Ittingen Kartause canceled the March 20 appearances of Russian cellist Anastasia Kobekina and associate artist, Swiss pianist Jean-Selim Abdelmoula. 
This comes even as Kobekina made clear on her social media that she opposes the attacks in Ukraine. "There can not be any goodwill or adequate reason to justify the sacrifice of human lives, to justify the war," she wrote. "I can't and won't accept that this war is going on my behalf as a Russian citizen. I am devastated. This tragedy should be stopped as soon as possible. Peace should be restored."
Further, on the second day of the attacks, Kobekina had shared a video on Facebook of her playing with Ukrainian concert pianist Anna Fedora, posted with the hashtag #notowar.
The cancellation of Kobekina's concert has seen tickets returned, and those audience members not requesting refunds, will see the value of their ticket go toward the Swiss Solidarity "Collection for Ukraine."
"The reason for this [cancellation] is the controversy surrounding the appearance of Russian artists in current world affairs in general, as it was kindled at leading concert halls in Europe," Ittingen Kartause wrote on their website. "[The withdrawal of Kobekina's concert] has triggered many controversial reactions, which we very much regret.
"...The decision was never directed against Ms. Kobekina or against Russian artists in general," they wrote. "[We] regret that [Kobekina and Abdelmoula] have to suffer because of our decision."
Kobekina was devastated to hear the news. "Despite my public position, even though I've been living in Germany for almost 10 years, my nationality could be a reason for cancellation," Kobekina told The Violin Channel. 
"Music and culture should help us to unite," she continued. "And I, as a Russian artist, especially in these times, [want to make clear] that I am for peace and that I, like many others from my country, are against this war."
Artists including flutist Emmanuel Pahud, pianist Igor Levit, and clarinetist Nicolas Baldeyrou have commented their views on Kobekina's Instagram post of the issue.
Pahud wrote that although Ittingen Kartause released a statement regarding their decision, "it still looks like a contortionist exercise, and [that] in the end, [the] cancellation is much [more a resignation than a solution]...There is not much else for us all in the arts scene to do than promote the art, and give our help and support to victims," he concluded.
View this post on Instagram
Heinz Scheidegger, Ittingen Charterhouse Foundation's procurator, told Swiss magazine Thurgaukultur: "We didn't make this decision lightly. But when the discussions about Anna Netrebko's engagement at the Zurich Opera House were going on, it was still two weeks until our planned concert with Ms Kobekina. We had to make a decision…we also wanted to send a signal in the current situation that things won't just go on as before."
According to Kobekina's management, she will be performing several charity concerts – also in Switzerland – some of which were organized before the cancellation at Ittingen Kartause. Proceeds from these will go to the people of Ukraine.
Controversies around Russian programming and artists continue as orchestras and concert promoters grapple with the best ways to support Ukraine and not unfairly treat Russian artists who have publicly condemned the war and distanced themselves from the actions of Vladimir Putin.
Kobekina was a prizewinner at the 16th International Tchaikovsky Competition and achieved second place at the Enescu International Cello Competition. In 2015, she won Hamburg's TONALi Competition, where she was loaned a 1743 Guadagnini cello and was recently a BBC New Generation Artist.
Currently completing postgraduate studies at the Frankfurt University of Music and Performing Arts with Kristin von der Goltz, she is a 2022 Borletti-Buitoni Trust award winner and performs on a 1698 Antonio Stradivarius cello, generously loaned by Stradivari Stiftung Habisreutinger.