Cellist Benjamin Kruithof Wins the 2022 George Enescu International Competition, Cello Section
The Cello Final of the Enescu Competition took place on Thursday, September 8, at the Romanian Athenaeum in Bucharest, Romania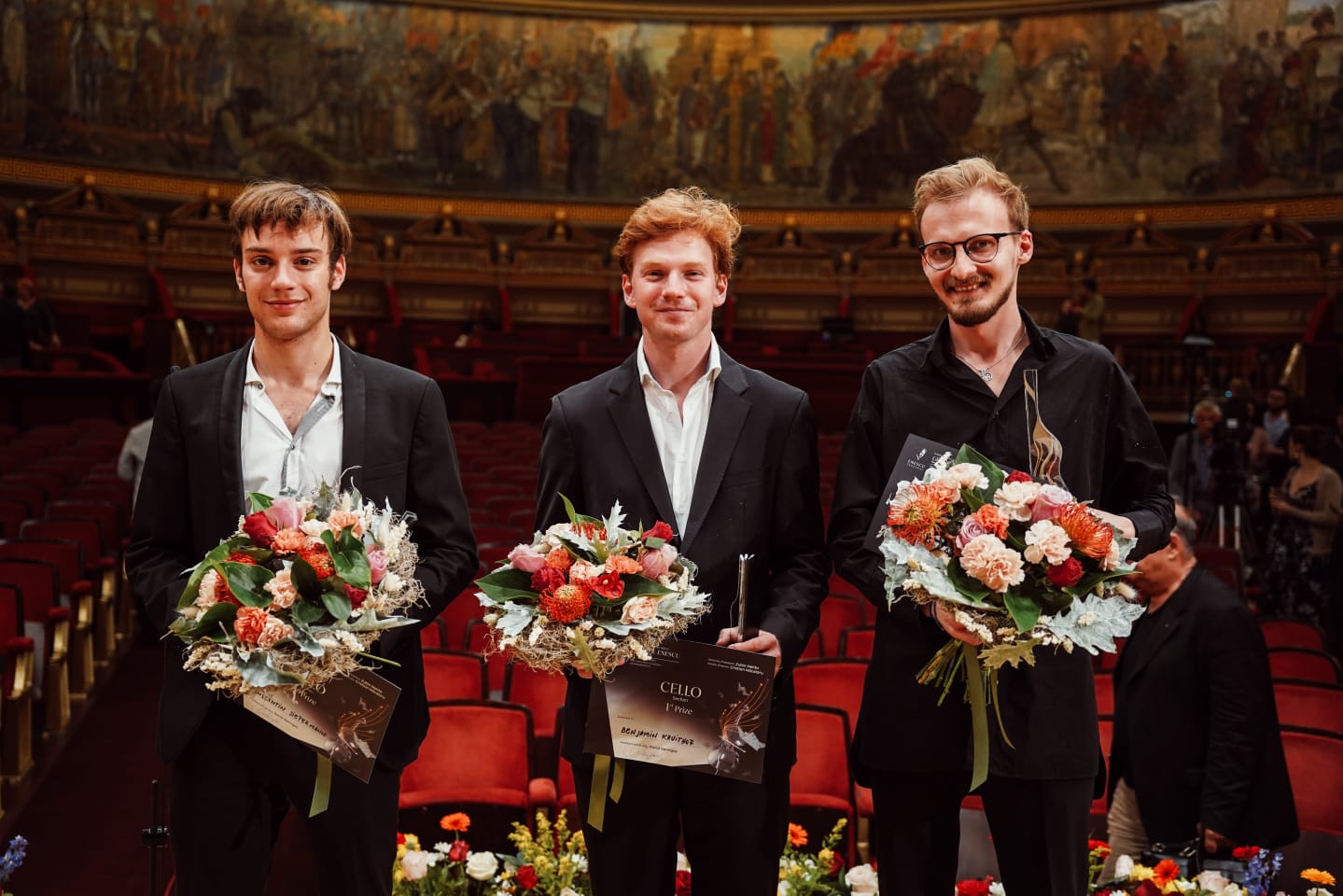 Benjamin Kruith of Luxembourg will receive 15,000 euro for winning the first prize of the Cello Section of the 2022 George Enescu International Competition. He was also awarded performance opportunities at the 2023 and 2024 editions of the George Enescu International Festival and Competition, as well as in concerts organized during the Romanian Philharmonic seasons.
Leading arts management company Askonas Holt has partnered with the competition to provide the top prize winners with career guidance and mentorship on a non-exclusive basis for one year.
Constantin Borodin (Republic of Moldova/Romania) won second prize worth 10,000 euros, while third prize and 5,000 euros went to Constantin Siepermann (Germany). The 2022 Enescu Competition trophies, given to the three young cellists, are made of glass and bear the signature of the artist Iulia Năstase. The jury also awarded the Award for the best foreign accompanist, which went to the Italian Claudio Berra.
The Cello Section Jury of the 2022 edition includes David Geringas (Chairman of the Jury), Natasha Brofsky, Marin Cazacu, Enrico Dindo, Leonid Gorokhov, Alexandra Guțu, Reinhard Latzko, Meehae Ryo and Tsuyoshi Tsutsumi.
"It was a difficult two years, due to the pandemic, but I am happy to note that this did not affect us from an artistic point of view, because we had some special performances in this Contest," said the renowned cellist David Geringas, President of the Jury of the Cello Section. "I am especially happy that I had the opportunity to listen to the works of George Enescu."
In the Final, which you can watch here, Benjamin Kruith performed Dvořák's Cello Concerto in B minor Op. 104 accompanied by the George Enescu Philharmonic Orchestra, conducted by Tito Muñoz.
Kruith began studying the cello at the age of 5 at the Conservatoire du Nord, with Raju Vidali. He has performed with the Luxembourg Chamber Orchestra, Herford Philharmonic, Luxembourg Philharmonic Orchestra, and in concert halls such as Concertgebouw Amsterdam, Gasteig München, Kings Place in London, Changsha Concert Hall, Renmin University Hall, Guangzhou Opera, Philharmonic in Luxembourg, Cortot Hall in Paris. In 2020, he recorded his first CD with the Herford Philharmonic at Ars Production, and in 2021 he was invited to attend the Seiji Ozawa Academy in Switzerland.
The 18th edition of the George Enescu International Competition is taking place in Bucharest between September 4 and 18. This year, the competition returns to the theater, after two years of online events.
The message that the Enescu Contest sends this year is that of regaining hope: Music of hope | Music of Hope. Over 100 young musicians from all over the world signed up for the online stage of the competition. Among them, 34 talented artists will have the opportunity to perform at the Romanian Athenaeum, in the Semi-Final and Final stages in the three interpretive sections: violin, cello, and piano.
The Violin Section of the competition will also be streamed on The Violin Channel. You won't miss a beat.