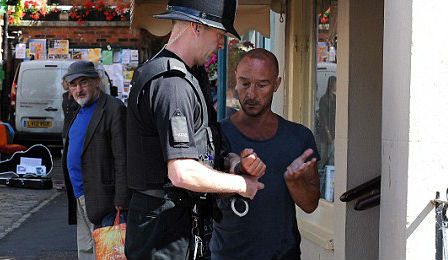 A cellist busker has been arrested after throwing a bucket of water over a rival street performer - in a heated turf war, in Bridport, England.
The incident erupted on Wednesday, in Bucky Doo Square, Dorset after the two street musicians attempted to play over one another.
A police officer who witnessed the event, stepped in, and with the assistance from a member of the public restrained and arrested the offending cellist.
A spokesman for Dorset police confirmed a 45-year-old man had been issued with an on-the-spot fine of £90 (USD $153) for a public order offence.
[video_lightbox_youtube video_id="A9QOmEuH86Q" width="590" height="385" auto_thumb="1"]
BUSKER ARREST | BUCKY DOO SQUARE, BRIDPORT | WEDNESDAY 25th JUNE 2014