ChamberQUEER 2022 Announces Shows at New York's National Sawdust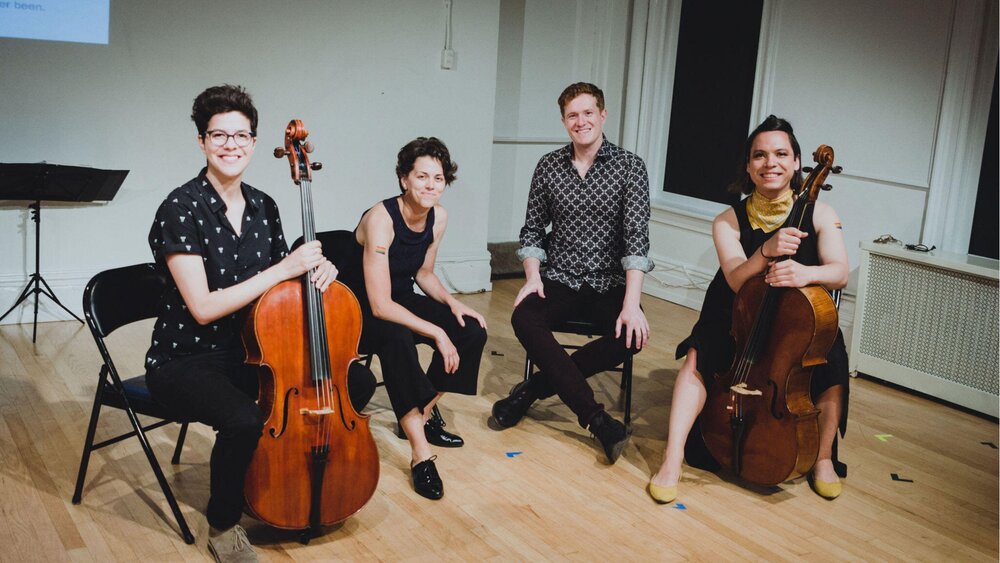 ChamberQUEER founders (Photo credit: Elizabeth van Os)
ChamberQUEER (CQ) was founded in 2019 by cellist Jules Biber, soprano Danielle Buonaiuto, baritone Brian Mummert, and cellist Andrew Yee of VC Artist Attacca Quartet. Together, they are CQ's core performing ensemble.
Opening their two-show engagement at New York's National Sawdust (NS) this June, CQ will highlight music by queer artists across multiple centuries, and pair pieces by innovative Renaissance nuns with those of three contemporary composers. 
The artists selected in this year's ChamberQUEER Pride Festival will include emerging composers Connor D'Netto, Alexis Lamb, and Rosśa Crean — selected from ChamberQUEER's 2020 Call for Scores program.
Confirmed performers for the June 10 show are violinist Mazz Swift and baritone vocalist Lucas Bouk alongside the core CQ ensemble. For June 12, works include Julius Eastman's 1979 Gay Guerrilla in a new arrangement for string septet by violinist Jessie Montgomery. Soprano Melissa Wimbish will also perform with the CQ ensemble.
This two-day lineup was curated in collaboration with Eastman scholar Isaac Jean-François. The event aims to present an image of Eastman's New York City, both with a new film by Ashanti Soldier and Kham Owens, and through works of Eastman's colleagues and contemporaries, including Tania León and Talib Rasul Hakim. 
With a focus on queer modernism of the early 20th century, the program will also include Benjamin Britten's Les Illuminations and the poetry of French poet Arthur Rimbaud, who greatly influenced the 20th-century Surrealist movement.
CQ has previously been presented by WQXR at the Greene Space; Death of Classical at Green-Wood Cemetery; Brooklyn Pride; Boulanger Initiative; and the Westerlies. 
National Sawdust will host the festival in its performance venue, which also acts as a recording studio, housed in a preserved century-old sawdust factory. The building also has a bistro and bar, led by James Beard Award-winning chef Patrick Connolly, which offers food and drink during NS performances.
NS's mission is to "build new audiences for classical and new music by providing outstanding resources and programmatic support to both emerging and established artists and composers," according to their Facebook page.
"We introduce audiences to new artists and styles, and we introduce artists to new audiences," they continued. "We also provide artists the space, time, and resources they need to create new work."
Tickets are $25 for each show and pay-what-you-can tickets are also available which can be subsidized by full-price ticket sales. To purchase tickets, click here.
The live performances will take place at NS under set COVID-19 guidelines and will also be available as free livestreams.