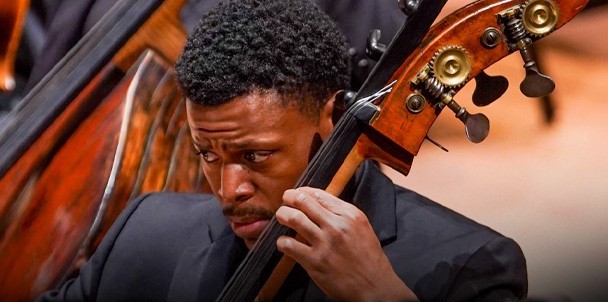 The Cincinnati Symphony Orchestra and Cincinnati College-Conservatory of Music have this week announced the recipients of its 2020 Music Diversity Fellowship Program– created with the mission of making American orchestras more inclusive.
The 2020 Fellows are:
Violinist Maalik Glover
Double Bassist Amy Nickler
Cellist Max Oppeltz-Carroz
Violist Javier Otalora

Violinist Giuseppe Tejeiro
Founded in 2015 with a generous grant from The Andrew W. Mellon Foundation, the 2 year student program offers excellence-based orchestral and professional development training for up to 5 early-career violinists, violists, cellists or double bassists – who represent historically underrepresented populations.
Those selected are provided 5 weeks of performance opportunities per season with the Cincinnati Symphony  Orchestra – plus a full tuition scholarship to a Masters of Music or Artists Diploma degree program at the University of Cincinnati College-Conservatory of Music.
An annual stipend of $10,000 will also be provided to all recipients – plus a Graduate School Dean's Excellence Award of $3,000 and a $8,000 per season salary for performing with the ensemble.