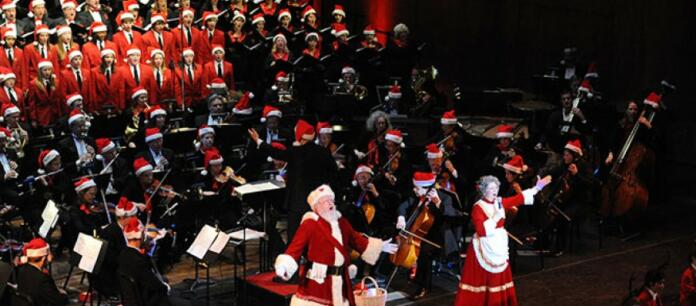 Premiered by the Columbus Symphony Orchestra (CSO) since 1983, "Holiday Pops" had become a festive favorite due to its sacred and secular Christmas music, choral singing, and performances with Santa and Mrs. Claus.
As the pandemic reached a peak last year in central Ohio, the directors of the symphony were planning on how best to present their annual concert despite the obstacles.
In 2020, it became the "Holiday Spectacular," the same program but broadcast on network TV. Even though the symphony had presented virtual concerts on their website, the televised Christmas special reached 130,000 viewers during the broadcast.
As the CSO rarely produced for television, the nomination was unprecedented. The only other Emmy nomination for the orchestra was in 1985 for a recording of the show, "An Evening with the Columbus Symphony."
"We realized that our normal 'Holiday Pops' would not be possible in person," said Denise Rehg, executive director of CSO. "It always requires a lot of singing and a lot of choir work and a lot of people on stage. We thought, okay, what if we bought time on network TV?"
"Normally we would never have the opportunity to see more than 100,000 people," she continued. "But that was a way for us to do that."
The winner of the Emmy will be announced at a virtual award ceremony on August 15, 2021.