Composer Josh Henderson on Writing for a String Quartet
Henderson's work will receive its New York debut with the Cavani String Quartet at Kaufman Music Center's Merkin Hall
On November 5, 2022, the Kaufman Music Center and the John J. Cali School of Music will co-present a concert by the Cavani String Quartet. As part of the Bridges concert series, the Cavani String Quartet will be performing a program that includes Shostakovich, Henderson, Washington, and Mendelssohn. Tickets can be found here.
The Josh Henderson work, entitled A Bop for Bridge, will receive its New York debut with students from Kaufman Music Center's Special Music School & the John J. Cali School performing alongside the Cavani String Quartet.
The Violin Channel had the chance to chat with Henderson and the Cavani String Quartet about working together, their inspiration, and their processes!
Violin Channel: What was your idea or inspiration behind the work? 
Josh Henderson: These days with my composing, I am very much interested in the musical exploration of lesser-known tales, places, and people of the world. So when approached to create a work for the wonderful Cavani Quartet as part of their Beyond Beethoven project, I was excited to delve into one of the lesser-known, but terribly interesting tales surrounding Beethoven and his chamber works. This would be the tale of George Bridgetower, the British violin virtuoso of African descent, who holds the esteemed position of being the original dedicatee of Beethoven's famous Kreutzer Sonata. However, after a successful premiere of the work, the performer and composer found themselves in an altercation, and the dedication was renounced and subsequently given to another virtuoso of the day, Rudolphe Kreutzer. Unfortunately, Mr. Kreutzer declared the Sonata too difficult to be played (despite the recent successful premiere by Mr. Bridgetower), and never actually performed the work. And sadly, after a few more years of fame, Mr. Bridgetower spent the rest of his life in obscurity, and died penniless in Peckham.
VC: How did this premiere opportunity come to you?
JH: Like many things, I happened to be in the right place at the right time.
Last season, The Cavani quartet was in the midst of a very exciting Beethoven project –essentially, a Beethoven cycle that not only featured performances of all of the quartets but also included new commissions on each concert and heavily involved local Cleveland communities as part of the project through their many education initiatives. They had many awesome composers lined up for each concert in the series, but due to an unfortunate family circumstance, the composer affiliated with the final concert had to remove themselves from the project somewhat late in the game. At this point, the cellist of Cavani and good friend Kyle Price, himself a wonderful composer/arranger (among many other things), approached me to jump on the project, as we have had many collaborations involving creating works under time constraints in the past. And of course, I was more than happy to write something for this incredible group!
VC: What was your personal/compositional process of taking the concept from your mind through to the premiere?
JH: This piece is not only inspired by the story mentioned previously, but also draws extensive inspiration from the motivic and harmonic languages of Beethoven (with a bit of a modern flair), and in honor of Mr. Bridgetower, is also meant to be a vehicle of virtuosity for the solo string quartet.
VC: What do you hope listeners will take away with them?
JH: I'm always hoping that an audience will leave a performance with themselves ever so slightly stretched in new directions – personally, musically, creatively, does not matter, just some kind of growth. If they can learn a little bit of history, connect with the music and message, and apply that to their own lives in a positive way, then that is fantastic.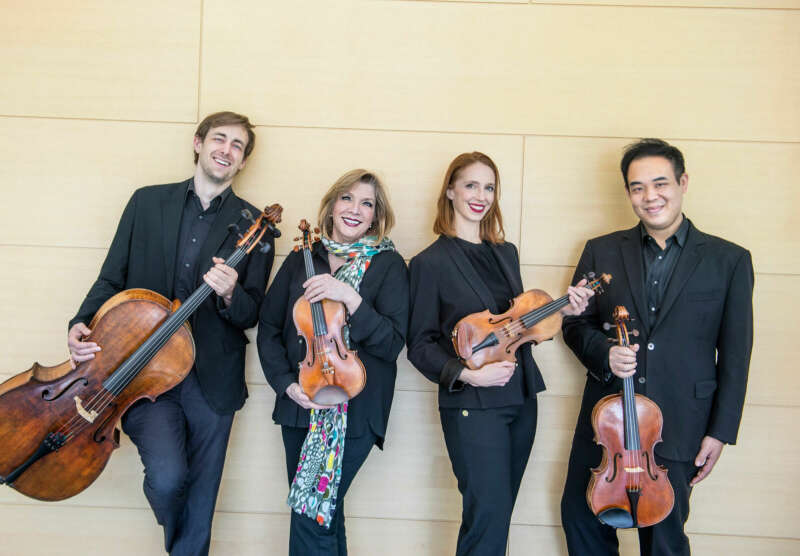 Comprised of violinists Annie Fullard and Catherine Cosbey, violist Eric Wong, and Kyle Price, the Cavani String Quartet is the recipient of The Naumburg Award, Ohio Governors Award for the Arts, Musical America Magazine's Young Artists of the Year, The Cleveland Quartet Award, ASCAP Award for Adventurous Programming, and The Guarneri Quartet Award Artistic Excellence.
VC: How important is it to your group to perform new music? 
CSQ: Learning and performing new music offers us a renewed sense of wonder and discovery. We believe the collaborative process with living composers is the life force of every ensemble, and the Cavani Quartet works actively to cultivate these wonderful relationships. We approach the work of living composers with the same reverence as the works of celebrated musicians from the past. At the same time, working with living composers offers deeper insight into the process of interpreting and studying composers from the past. To quote one of our favorite composers, Gabriela Lena Frank, "It is beyond important for chamber music groups to play new music and work with living composers – it is your responsibility as artists."
VC: Did you get to collaborate with the composer on this premiere?
CSQ: Our collaboration with Josh Henderson was inspiring and creative. We feel grateful to have had the opportunity to commission a work that is so multifaceted, dynamic, and refreshing. Josh even performed with us in the premiere!
VC: How does the group go about programming a concert such as this one?
CSQ: In 2021, the Cavani Quartet inaugurated Beyond Beethoven, an eight-part concert series featuring the complete quartets of Beethoven intertwined with works by some today's most respected and innovative living composers. Beyond Beethoven also included a community engagement extravaganza involving more than a hundred high school-age string players from the Cleveland region. Our goal is to celebrate these young artists through a side-by-side performance on the stage of the renowned Severance Hall. We chose a challenging and joyful movement from a Beethoven quartet and commissioned the extraordinary Josh Henderson to write a work that could include all of our students on stage performing together with the Cavani Quartet. Josh created a piece which tied the Beethoven and Bridgetower story together and offered the students a chance to premiere an exciting and beautiful new work. We are so thrilled to perform the work once again at Kaufman Music Center this week, and once again with the brilliant Josh Henderson.
VC: If you had to give a piece of advice to a young, aspiring quartet, what would it be?
CSQ: We encourage our students to look to the future as well as the past when selecting repertoire. There is a vast array of brilliant and compelling contemporary chamber music and composers who are excited to create new works. As a community of musicians, we must empower young ensembles to develop their joyful side, and encourage passionate communication, critical thinking, effective reasoning, and creative action. We believe playing chamber music is a catalyst for deepening the expressive power of music and connection, and in building the team. Living in a chamber music world illuminates the importance of connecting with each other and strengthens our humanity.