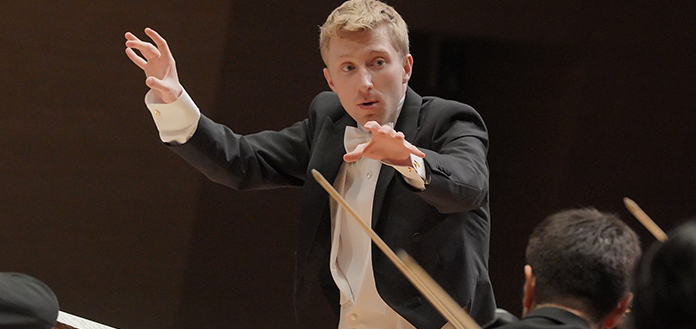 The Wuppertaler Bühnen und Sinfonieorchester, in Wuppertal, Germany, has today announced the appointment of 24-year-old Austrian conductor Patrick Hahn as its new Music Director - effective from the commencement of the 2021-2022 season.
The appointment makes him the youngest General Music Director in Germany.
A graduate of the Graz University of Music, Patrick has recently led performances with the Münchner Philharmoniker, Luzerner Sinfonieorchester, Wiener Symphoniker, Hamburger Symphoniker and Bayerische Staatsoper.
"It's not often that the chemistry and mutual joy in making music go together as well as it did during our first collaboration at the beginning of the year ... I am incredibly excited to embark on this exciting journey with such a motivated, first-class and versatile ensemble," the 24-year-old has today said.
"We are thrilled to be able to gain such an exceptional talent for Wuppertal ... an absolute stroke of luck for Wuppertal — for the city and the entire Bergisches Land — the music world will definitely be watching," Mayor and Chairman of the Supervisory Board Andreas Mucke has this week said.
Patrick will succeed conductor Julia Jones in the role.