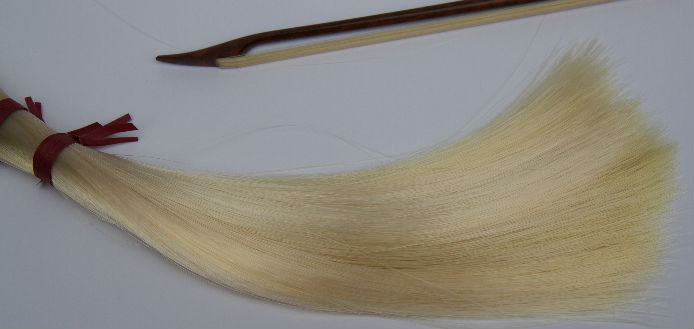 The Violin Channel recently caught up with Toulouse Chamber Orchestra Concertmaster and Coruss Synthetic Bow Hair spokesperson, Mr Gilles Colliard. 
In a VC-exclusive blog, Gilles guides us through the development of the synthetic string bow hair - and its benefits over a traditional horses' tail.
CORUSS SYNTHETIC BOW HAIR | BRAND HISTORY
"A professional musician who travels extensively gets his bow rehaired at least twice a year… and sometimes three or four times! Moving frequently and often quickly between mountain humidity levels and coastal humidity levels strains and damages the natural hairs on the bow. Double bassist in the Orchestre de Chambre de Toulouse and inventor of Coruss, Renaud Gruss, wanted a much more resistant fibre for both himself and his colleagues in the orchestra. How frustrating to find yourself in San Francisco or in the contrasting environments of Calgary or Mexico and to realise that the four bows brought on tour are all in bad condition just before the concert begins! Renaud Gruss collaborated for 18 with IFTH (specialists in all types of textile), a Doctor of chemistry and an engineering school (ENSIACET) in Toulouse.
All of the musicians in the OCT now have several bows that have been rehaired with Coruss hairs. That doesn't stop them having natural hairs on other bows, of course! Coruss and natural hair are not mutually exclusive and it is perfectly fine to enjoy playing a stringed instrument with both! Each bow and each instrument has its own unique range of similar, but different, sensations. It is exactly the same for Coruss and natural hair. The sound produced is so similar that a musician listening to a Coruss-haired bow whilst blindfold wouldn't notice anything … but the sensation is very slightly different and it is a real bonus to have the choice.
Natural hair is very sensitive to humidity and dryness. Recent outbreaks of animal disease in Mongolia mean that the quality of the hair is worse than before. It often breaks during a concert. When you play in a marvellous, air-conditioned auditorium where the temperature is controlled, natural hair is wonderful. But most concerts take place in ill-equipped halls or even outside … Coruss doesn't break and is insensitive to humidity levels. A concert can take place at altitude or at sea level, in a small hall or a huge hall, or outside and Coruss remains stable. With Coruss you rehair the bow three times less often. This makes it ideal for professionals who travel a lot, but it's also an ideal solution for young players, for whom rehairing the bow can cost as much as half of the bow's value. Rehairing less frequently is very advantageous for them.
Last but not least, Coruss is vegan!
-Gilles"
Exclusively distributed in North America by Connolly Music.
HOW TO SET UP CORUSS BOW HAIR