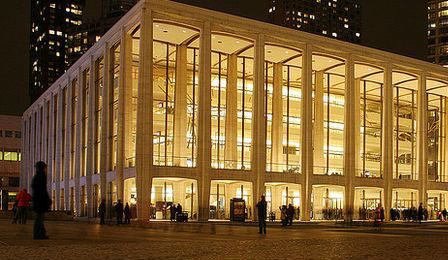 It has been announced today that New York's 'Avery Fisher Hall', home of the New York Philharmonic, will be renamed 'David Geffen Hall' at the start of the 2015-16 season - in honour of the music and entertainment industry magnate's $100 million gift towards the facilities upcoming renovations.
The 72 year old arts philanthropist's donation, to be paid out over 8 years, will contribute significantly to the hall's 2019 gut renovation - which is expected to cost in excess of $500 Million.
The 2,738 seat auditorium, housed in the Lincoln Center for the Performing Arts, was constructed in 1962 and has long been regarded as outdated and acoustically problematic.
Mr Geffen, a business magnate, producer, film studio executive and philanthropist, established the careers of countless pop and rock musicians including the Eagles, Joni Mitchell, Donna Summer, Elton John, Cher, Sonic Youth, Aerosmith, Linda Ronstadt, Guns N' Roses and Nivana and was a founding partner of Dreamworks Studios - alongside producers Steven Spielberg and Jeffrey Katzenberg.
'I love classical music … I'm an arts junkie," Mr Geffen has told The New York Times.