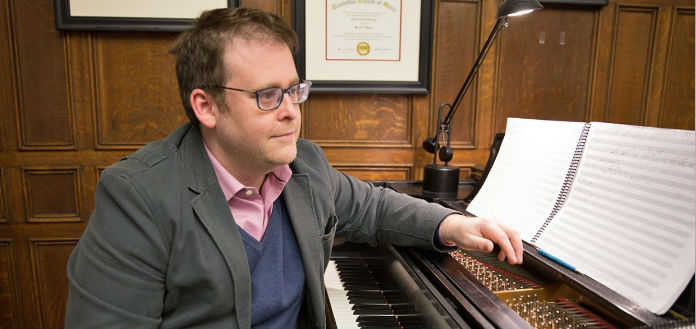 The Violin Channel recently caught up with Philadelphia-based composer and Curtis Institute of Music faculty member, David Ludwig.
In a VC-exclusive blog, the 41 year old talks us through his latest large-scale work – a new violin concerto written for and premiered this week by his wife, VC 'Artist' Bella Hristova.
"When I was approached to write a new violin concerto for Bella Hristova, I was thrilled at the idea of collaborating with this incredible artist whom I know rather well (we got married last August). Alan Jordan, then executive director of the Vermont Symphony and now at the Delaware Symphony, first hatched the idea. With eight partnering orchestras across the country in a commissioning consortium and additional funding from New Music USA, the piece was born.
Vermont is a very special place for Bella and me. We became a couple at the Marlboro Music Festival (and the 63rd to result in marriage, according to reputable sources) and my own family history in Vermont goes back nearly a century. We got married in the Green Mountain State, too: Jaime Laredo officiated our wedding on a perfect day last August. He and his wife Sharon Robinson have been some of the great mentors and supporters in our lives. And I suppose in a way he continues to officiate as the conductor of our concerto that receives its premiere with the Vermont Symphony Orchestra tomorrow night.
I only know of a few concertos written by composers for by their spouses, and I don't know of any that are motivated by the idea of marriage itself. My concerto comes with musical references to partnership, empathy, and communion, as it imagines the before, during, and after the ancient ritual of the wedding ceremony.
Even though my violin concerto doesn't tell a specific story, I couldn't help but write something with personal elements in it too, and Bella and I have much in common to write about. Like me, Bella's background is Eastern European, and the piece is full of dance music from that part of the world–including several dances from her native Bulgaria. And Bella also comes from a musical family that includes her father, Yuri Chichkov, whom she never got a chance to meet before he passed away when she was still a small child. Chichkov was a wonderful and well-known Russian composer, who himself wrote a violin concerto. After about a year of hunting, I tracked down that concerto and quoted from his second movement in my own second movement symbolically as a way to include him in our own wedding ceremony. There are lots of other more public quotes and references in the piece, but that one is the most personally significant to me.
Our concerto begins with the violin amidst an explosion of sound as the transformative start to something new, followed by four traditional dances. The second movement "Ceremony" follows the progression of the wedding ritual. A slow processional unravels throughout the movement, ending in musical "wedding rings" created by the rise and fall of the violin against solo instruments in the orchestra. The third movement "Festival" is my version of a Krivo Horo or "Crooked Dance" that captures the irregular way people (attempt to) walk home after a great party. The music is celebratory to the end, reflecting the coming together of a community inspired by two people promised to preserve each other's well beings for the rest of their lives."
-David"