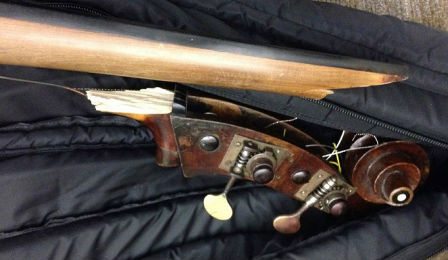 Only days after American bassist Karl Fenner published alarming photos on social media of his badly damaged instrument, following a US flight from Atlanta to Denver, University of Georgia faculty member, Milton Masciadri has today posted similar images of his beheaded double bass - following a flight via the same airport.
Mr Masciardri has indicated he was travelling from Atlanta to Arkansas, on Monday when the neck of his 18th Century Carlo Antonio Testore double bass was severed in transit - believed to have been caused by a Transport Security Administration (TSA) officer failing to reattach the case restraining belt following a routine inspection.
'In my case they failed to put the restraining belt on the neck of the bass after inspection," Masciardri has scorned angrily on social media, " ... this is the second instrument broken in three days.'
Fenner has indicated South West Airlines have now accepted sole responsibility for the damage to his instrument.