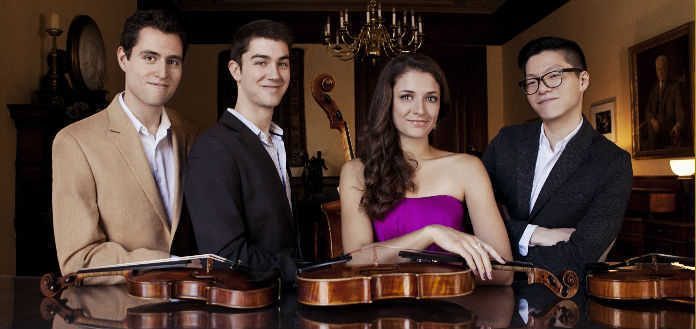 The Violin Channel recently caught up with the Philadelphia-based VC Artists Dover Quartet.
In a VC-exclusive blog, Dover cellist Camden Shaw discusses some of the biggest chamber music lessons the award-winning ensemble have learnt outside of school.
"After nearly 10 years in the Dover Quartet, I've learned a few things about making music that I now find indispensable - things that are never talked about in school. There are too many lessons to choose from, in all sorts of arenas - but I've chosen here to focus on three ways to ensure a rehearsal is effective. You'll notice that these elements work in a circle: each will lead to the next and be informed by the one before. (Surprise surprise… like any other profession, it's all about PEOPLE.)
LESSON 1: TREAT EVERY DISAGREEMENT AS AN OPPORTUNITY TO LEARN
How often have you suggested something in rehearsal only to have it shot down immediately? Whenever someone's ideas are dismissed without consideration, it is extremely destructive, in two ways:
1. It is symptomatic inflexible thinking. This will prevent musicians from learning and growing over time. If your first instinct becomes "I disagree," you're in trouble.
2. It makes the idea's originator feel stupid, disrespected, insecure, and eventually, bitter, if your group is lucky enough to be together for years.
Whenever someone suggests an idea, DO NOT ALLOW yourself to dismiss it instantly. Instead, train yourself to think: "what can I learn from this point of view?" You may never agree with the new idea, but if you automatically disregard your colleagues' imaginations, you will stunt your own growth.
LESSON 2: PICK YOUR "BATTLES"
If you have followed the advice in Lesson 1, you have been open minded and made your fellow musicians feel heard and respected. That will ALREADY make them much more likely to want to treat your ideas with the same respect. Still, on occasion, you may be outvoted on something that means a great deal to you. In these cases, (as long as you heed Lesson 3!) it's alright to dig in.
I recommend a "dig in" to open-mindedness ratio of 1:10. If you dig in on every issue, it will not carry much weight, because it is the norm for your behavior. Instead, if you're usually very open to possibilities, it will really mean something when you don't want to budge. (Keep in mind, this doesn't mean you'll get what you want only 10% of the time: if your rehearsal atmosphere has been cultivated well, your colleagues will already agree with many of your suggestions.)
LESSON 3: NEVER UNDERESTIMATE THE POWER OF KINDNESS
This is the biggest lesson of all, and of course it applies to life itself, not just to music. The way you make someone feel when you interact with them has about 5x more sway over their chances of agreeing with you than the quality of your idea.
I used to think that, as we got older, the Quartet would drop the stupid, time-wasting politeness in rehearsal, and just say what you think, unvarnished. After all, so much time is wasted being polite, right? But … you know what REALLY wastes time? Arguing. Arguing wastes SO. MUCH. TIME. The worst, and longest arguments I've ever been witness to in the last 10 years were not ultimately about music- they were about insecurity. When we're made to feel insecure, we fight more. So you know what? A little kindness goes a long way. And it doesn't mean you have to be "fake." After all, if you consider kindness "fake" you may want to examine whether you think you're a good person.
#micdrop
Happy, kind rehearsing to you all!
-Camden"
The Philadelphia-based

 

Dover Quartet

 

have firmly established themselves as one of the most in-demand young, chamber ensembles to emerge internationally in recent years | Formed at the Curtis Institute of Music and comprising violinists

 

Joel Link

 

and

 

Bryan Lee, violist

 

Milena Pajaro-Van de Stadt

 

and cellist

 

Camden Shaw, the Dover are former top prize winners at the Fischoff, Wigmore Hall and Banff International String Quartet Competitions – and recent recipients of the prestigious Cleveland Quartet Award and the Lincoln Center 'Hunt Family' prize, for outstanding achievement