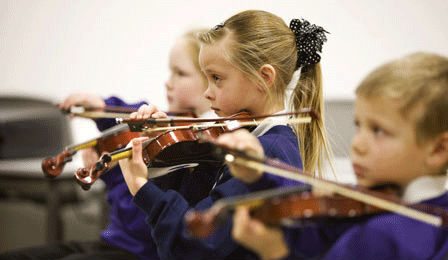 A comprehensive study, published this week in the UK, has found the electric guitar has now overtaken the violin, for the first time - in the list of six most popular instruments played by British children.
Conducted by the Associated Board of the Royal Schools of Music, the new Making Music findings have suggested 13% of 5-17 year olds in the United Kingdom now play the electric guitar – compared to 12% who play the violin.
A spokesperson for the board has suggested it potentially reflected the fact that a growing number of children are now exposed to music through TV shows such as 'The X Factor'.
The survey of over 7500 children, adults and schoolteachers across the UK, the largest of its kind, did however indicate an encouraging sign with 76% of respondents aged 5-14 suggeting they knew how to play an instrument – compared to 41% in 1999.
"The number of UK children who know how to play an instrument has increased measurably by 35 per cent since 1999 - particularly with a growing interest in pop music instruments," the findings have suggested.
Keyboard still remains the most popular instrument played by British children – played by 30% of the 1726 children questioned.