VC FIRST | Exclusive Track Premiere from the Emerson String Quartet's New 'Chaconnes and Fantasias' [SNEAK PEAK]
VC is proud to offer an exclusive world-premiere first listen sneak peak to a track from the Emerson String Quartet's new disc 'Chaconnes and Fantasias'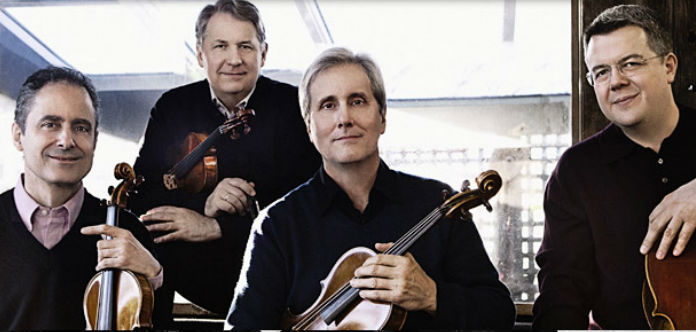 To help celebrate the Emerson String Quartet's 40th season and the upcoming release of their new disc 'Chaconnes and Fantasias: Music of Britten and Purcell', The Violin Channel in conjunction with Decca Gold, is this week proud to offer all VC members an exclusive world-premiere first listen.
Set for release on April 21st, the disc contains Britten's String Quartet Nos. 2 and 3 - plus Purcell's 'Chacony in G minor' and 'Fantazias' Nos. 6, 8, 10 and 11.



EMERSON STRING QUARTET | PURCELL | FANTAZIA NO. 11 IN G MINOR Z742 | EXCLUSIVE TRACK PREMIERE | FIRST LISTEN
"We are intrigued by the combination of expressive freedom, contrapuntal discipline and surprisingly pungent harmonies in Purcell's fantasias …" First Violinist Eugene Drucker has told The Violin Channel about the work.
"Among the four of his fantasias that we've recorded, along with the dark and brooding Chacony, we find that the Fantazia in G Minor has the most positive and energetic atmosphere ... in concerts we always like to end a group of pieces by this fascinating English composer with the high spirits of the G Minor …" he has said.
"It is remarkable that a body of works conceived for viols should sound so effective in a modern string quartet setting … naturally, we try to play the fantasias in a different style from music by later composers, with less incisive bowing attacks and leaner vibrato, even compared to the Chacony, which we perform in Benjamin Britten's edition."
iTunes: http://smarturl.it/ChaconnesESQ_iTu
Amazon: http://smarturl.it/ChaconnesESQ_Amz