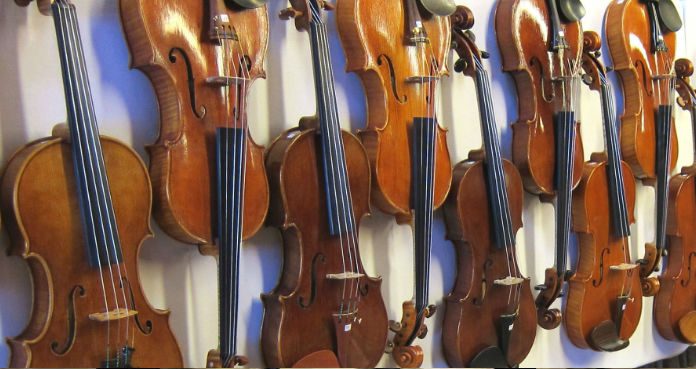 A new exhibition of contemporary violin and bow makers is set to open in Los Angeles - from April 7th - 9th, 2017.
Hosted by Metzler Violin Shop, the exhibition will provide an opportunity for string enthusiasts and players to view, play, hear and purchase some of the finest contemporary American, Canadian, Mexican and Brazilian violins, violas, cellos and bows - made by over 90 of the world's top luthiers and bow makers.
"Violin makers and bow makers in the United States and the Americas are truly creating many of the finest violins, violas, cellos, basses and bows in the entire world ... " event organizer Thomas Metzler has told The Violin Channel.
"With such a wonderful collection of instruments and bows in the exhibition … we certainly want to expose the string players on the west coast to the visual and aural beauty of this collection," he has said. 
Notable instrument makers to be represented include: Joseph Curtin, husband and wife team of Joseph Grubaugh and Sigrun Siefert, Violin Society of America quadruple gold medalist Emanuel Begin, Tetsuo Matsuda, David Gusset, Ben Ruth and renowned New York violin maker Guy Rabut.
The exhibition will also feature several guest appearances and performances - including violin, viola and cello tonal comparisons by LA Philharmonic Concertmaster Martin Chalifour, violist Richard O'Neill and cellist Marek Szpakiewicz.
The comparison, much like a wine tasting, will allow the audience to take notes on a provided printed program to assist them in which of the instruments they're interested to learn more about.
"If we have even a modest success, we may very well decide to make it an annual event," Thomas has said.
The exhibition will also travel to Las Vegas for a one day show on April 23rd - with total comparisons to be performed by Las Vegas Philharmonic Concertmaster DeAnn Letourneau, violist Nokuthula Ngwenyama and cellist Daniel Gaisford.
RSVPs for all sessions are essential.

For further information, visit: http://bit.ly/2oA1yRR