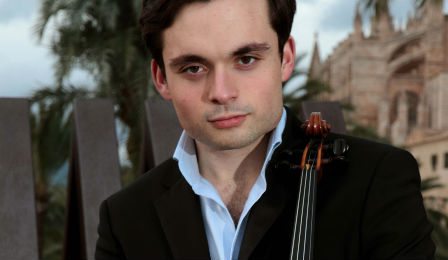 24 year old Francisco Garcia Fullana, from Spain has been awarded 1st prize at the 2015 Munetsugu Angel International Violin Competition in Nagoya, Japan.
A graduate of the Juilliard School and the University of Southern California, where he studied with Masao Kawasaki, Donald Weilerstein and Midori Goto, Francisco is a former 1st prize winner at the Brahms International Violin Competition.
He will receive JPY 500,000 (US $4500) and the 2 year loan of the 1697 'Rainvile' Stradivarius.
[video_lightbox_youtube video_id="HycKISTBlM8" width="590" height="385" auto_thumb="1"]
FRANCISCO GARCIA FULLANA | KREISLER | RECITATIVE & SCHERZO | 2015 SINGAPORE INTERNATIONAL VIOLIN COMPETITION
2nd and 3rd prizes were awarded to Seina Matsuoka from Japan and Youjin Lee from South Korea.
4th and 5th prizes were awarded to Mayuko Ishigami and Haerim Oh.
Francisco, in addition was awarded the 'Audience' Prize, the 'Central Aichi Symphony Orchestra' Prize and the 'Mr Munetsugu' Special Jury Prize.
This year's jury comprised: Chairman Shlomo Mintz, Felix Ayo, Gerard Poulet, Dong-Suk Kang, Takashi Simizu, Machie Oguri and Kimiko Nakazawa.
Former Munetsugu Angel International Violin Competition 1st prize winners include VC 'Young Artists' Yoo Jin Jang and Dami Kim.
PICTURED: 2015 Munetsugu Angel International Violin Competition 1st Prize Winner, Francisco Garcia Fullana from Spain.