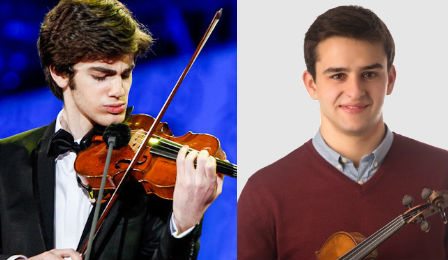 The 17 Semi-Finalists have today been announced at the 2014 Fritz Kreisler International Violin Competition, in Vienna, Austria - including VC 'Young Artists' Emmanuel Tjeknavorian and William Hagen.
This year's Semi-Finalists are:
VC 'Young Artist' Emmanuel Tjeknavorian (19, Austria), VC 'Young Artist' William Hagen (21, United States), Kiril Maximov (24, Moldova), Jan Mracek (23, Czech Republic), Emma Carina Meinrenken (15, Canada), Shuichi Okada (19, Japan/France), Eunsol Youn (27, South Korea), Xiao Wang (27, China), Robyn Bollinger (23, United States), Marina Grauman (20, Russia, Jaewon Kim (20, South Korea), Celina Kotz (20, Poland), Soo-Hyun Park (24, South Korea), Johanna Pichlmair (24, Austria), Danfeng Shen (24, China), Francisco Garvia Fullana (24, Spain) and Iona Chrstina Goicea (21, Romania).
The Final Round will be held on the 19th September – with the 1st prize winner to receive 15,000 EU (USD $19,400), a CD recording, career management and support and a coveted solo engagement with the Vienna Philharmonic Orchestra.
The Violin Channel will keep you abreast of the results as the rounds progress.