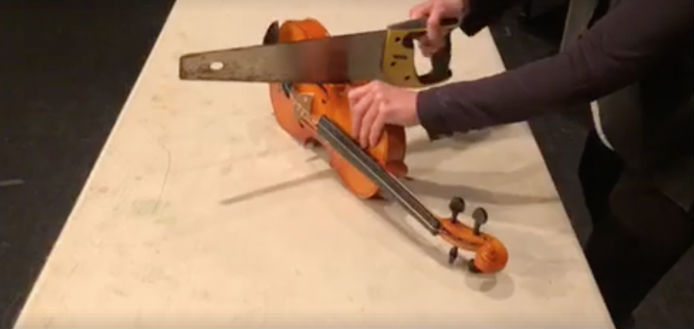 Violinist Emily Ondracek-Peterson performing George Maciunas' 1962 Fluxus performance art piece ... Solo for Violin ... including the sawing and total mutilation of the instrument and bow.
Recorded live on the 12th of July - at the 2018 Crested Butte Music Festival, in Colorado.
"To be honest 'Solo for Violin' was painful to perform ... but also very cathartic ..." Emily has told The Violin Channel.
"The violin used was $25 on Amazon .... professional concert stringed instruments are works of art and I would NEVER destroy such an instrument ... for any reason ..." she has said.
"If nothing else, this piece reminds us that we need to take care of music and the living performance of music and art ... when 'Solo for Violin' no longer generates a reaction in us, we know that the violin and music are no longer valued by the societies in which we live."