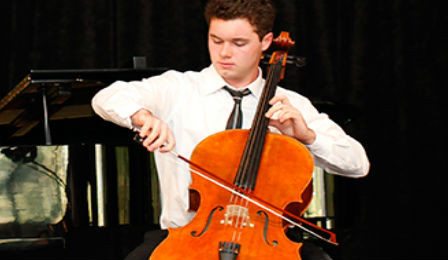 The 3 finalists have today been announced at the 2013 Gisborne International Music Competition, in New Zealand.
This year's finalists are: Rustem Khamidullin from Russia (Cello), Sam Lucas from Australia (Cello) and Hugh Roberts from New Zealand (Flute),
The annual competition, open to solo orchestral instrumentalists aged 16-25, is regarded as one of the most significant development bursaries in the Australasian region.
It is only the third time, in the competition's 25 year history, that a violinist has not progressed to the final round.
Previous prize winners include violinists James Dong, Jonathan Mui, Xenia Deviatkina-Loh, Alexandra Osborne and Natalia Lomeiko.
1st prize includes $8,000 NZD and a solo engagement with the Vector Wellington Orchestra.
The final round will conclude on the 6th of December.
The Violin Channel will keep you abreast of the result.
Pictured: Finalist 18-year-old cellist Sam Lucas, from Australia.