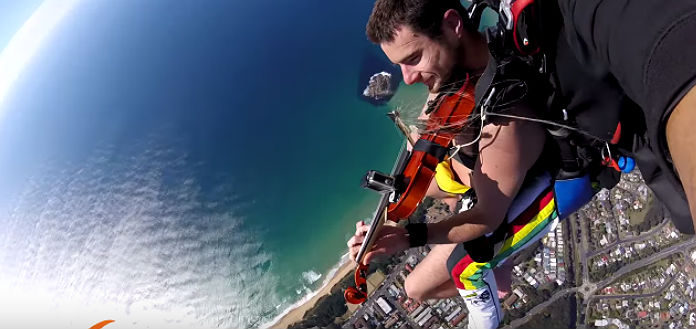 Australian violinist Glen Donnelly celebrating his 30th birthday this week ... performing Vaughan Williams' 'Lark ... Descending' ... naked - whilst skydiving above Coffs Harbour, Australia.
The stunt and world record attempt was organized to raise funds for three men's eating disorder and body image charities: 'The Butterfly Foundation', 'Nude Movement' and 'The Mankind Project'.
"At age 18 after one comment from a fellow musician about my tubby belly I started silently sucking it in 24/7 … creating a mental and physical prison in my body that would lead to a breakdown in 2013 … " the musician has said.
"It's time men stopped sucking it up … it's time men started letting it out … " he has said.
To date, Glen has raised $3,606 of his $15,000 AUD target.
If you can assist, please visit: www.gofundme.com/birthdaydive
GLEN DONNELLY | NAKED SKYDIVING VIOLINIST | VAUGHAN WILLIAMS | LARK DESCENDING | 2017