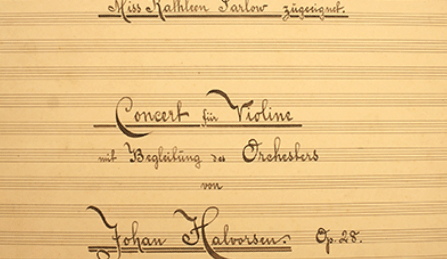 A manuscript copy of a violin concerto by Norwegian composer Johan Halvorsen (1864-1935) has been rediscovered in the University of Toronto's music archives.
It's believed the 3 movement solo orchestral work, written and premiered in 1909 by Canadian violin virtuoso Kathleen Parlow, had not been cited in over a century.
Parlow, remembered as one of the eminent female soloists of the 20th Century, died in Toronto in 1963, aged 73 - after which it's believed her scores were donated to the university's extensive collection.
"We are delighted that the Halvorsen violin concerto has been found," Head Librarian Suzanne Meyers Sawa has said, "… we are so happy to be a part of the restoration of this work to the repertoire, and we look forward to participating in the symposium next summer where we will hear the piece performed for the first time in more than a century!"
The Halvorsen Violin Concerto will be re-premiered by Norwegian virtuoso Henning Kraggerud in July in Stavanger, Norway.