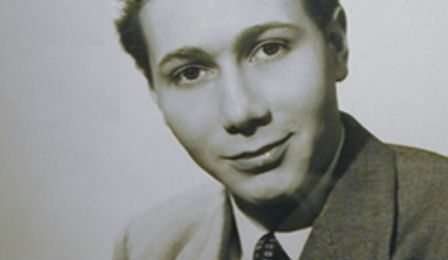 This week The Violin Channel explores the recordings of unassuming American violin virtuoso David Nadien.
[video_lightbox_youtube video_id="GRp2JyOLz8E" width="590" height="385" auto_thumb="1"]
DAVID NADIEN | TCHAIKOVSKY | 'PAS DE DEUX' FROM SWAN LAKE | LEONARD BERNSTEIN | NEW YORK PHILHARMONIC
A student of Adolfo Betti, Ivan Galamian and Adoph Busch, Mr Nadien made his professional solo debut at age 14, before receiving the coveted 'Leventritt Award' - and going on to serve as Concertmaster of the New York Philharmonic from 1966 to 1970.
Widely respected as one of the most technically perfect violinists of all time, Mr Nadien is believed to have been at one stage engaged by both David Oistrakh and Yehudi Menuhin for technical advice.
He passed away in May 2014, aged 87, after serving a distinguished solo, studio recording, orchestral and teaching career.
[video_lightbox_youtube video_id="2utqVKD45SA" width="590" height="385" auto_thumb="1"]
DAVID NADIEN | TCHAIKOVSKY VIOLIN CONCERTO | SEATTLE YOUTH SYMPHONY | VILEM SOKOL
[video_lightbox_youtube video_id="xKpcRAfcaRo" width="590" height="385" auto_thumb="1"]
DAVID NADIEN & SAMUEL SANDERS | HENRI VIEUXTEMPS VIOLIN CONCERTO NO. 5 | 2ND & 3RD MVTS | 1973
[video_lightbox_youtube video_id="Mk6qdJuLPMg" width="590" height="385" auto_thumb="1"]
DAVID NADIEN | BACH | SOLO SONATA NO. 2 IN D MINOR | CHACONNE | 1973
[video_lightbox_youtube video_id="nUq5q0uJ7pw" width="590" height="385" auto_thumb="1"]
DAVID NADIEN & SAMEUL SANDERS | WIENIAWSKI | SCHERZO TARANTELLE | 1973
[video_lightbox_youtube video_id="CgeVdCQLS2k" width="590" height="385" auto_thumb="1"]
DAVID NADIEN & SAMUEL SANDERS | ELGAR | SALUT D'AMOUR | 1973