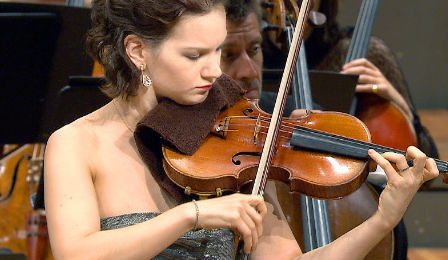 Violin virtuoso Hilary Hahn has today announced the further cancellation of 3 additional upcoming scheduled performances – due to an ongoing 'inflamed muscle' injury.
"I have made solid, steady progress, and fully expected to be healed in time for my engagement with The Cleveland Orchestra. Unfortunately, my doctor has said that performing next week would be detrimental to my long-term recovery. With sadness, I must withdraw from these concerts," Hahn has said via Facebook.
On July 24th, the 34 year old announced she was withdrawing from all performances for 6 weeks – due to a sustained muscle concern.
On September 17th it was announced Hahn would cancel a further 6 weeks of concerts following doctors orders.
Hilary was scheduled to perform Bach's 1st and 2nd Violin Concertos with the Cleveland Orchestra, at Severance Hall, this Thursday, Friday and Saturday evenings – under the baton of Maestro James Gaffigan.
She will be replaced by soprano Yulia van Doren - who will perform Bach's Solo Cantata No. 199 "Mein Herze schwimmt in Blut".
PREVIOUS