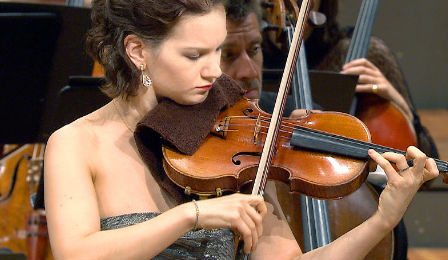 Violinist Hilary Hahn has announced the cancellation of 6 further performances – due to an ongoing 'inflamed muscle' concern.
"I've been advise by my physician that although I'm recovering well from my muscle strain, it would be prudent to delay the start of my playing season by another month," Hahn has said via Facebook.
On July 24th, the 34 year old announced she was withdrawing from all performance for six weeks - due to the concern.
Pinchas Zukerman will replace Ms Hahn's September 18, 19, 20th season-opening performances with the Baltimore Symphony Orchestra.
Augustin Hadelich will replace the September 25, 26, 27th performances with the Dallas Symphony Orchestra.
"I am confident that I will return strong, completely recovered, and in top form. See you in October!" Hilary has said.
PREVIOUS: