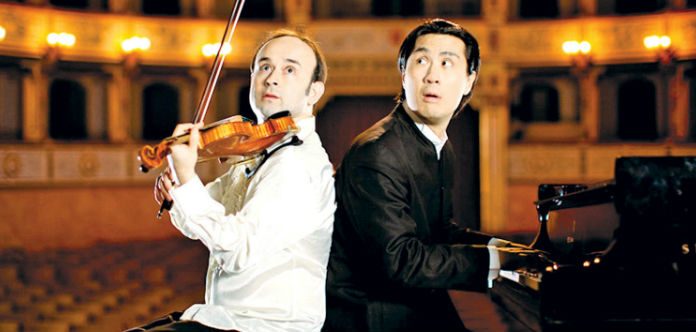 It has been announced today that the Igudesman & Joo comedy duo will join the artistic management roster of Dorn Music – for management representation in the United States, Canada, United Kingdom and Australia.
Comprising Russian violinist Aleksey Igudesman and British-Korean pianist Hyung-ki Joo, the pair rose to international fame through their unique theatrical shows - combining classical music, comedy and popular culture.
"Igudesman & Joo's creativity is astounding ..." Dorn Music Founder, Tanja Dorn has told The Violin Channel.
"Not only hilarious, witty and innovative, they are also among the finest classical musicians one can hear ... and I couldn't be more delighted to be now representing them," she has said.
"We are very excited that Dorn Music will adorn us with their representation in the USA, Canada, UK and Australia ..." Igudesman has told The Violin Channel.
"In fact, the excitement is turning all our music into A major ... and that is A major blessing," Joo has said.
Igudesman & Joo recently made appearances with the New York Philharmonic, Chicago Symphony Orchestra, Los Angeles Philharmonic, London Philharmonic and the Tonhalle Orchester Zürich.
Founded in 2016, Dorn Music's roster includes, among others, the Orpheus Chamber Orchestra, violinists Arabella Steinbacher and Daniel Röhn, cellist Jan Vogler, conductors Stanley Dodds & Alondra de la Parra, pianist Jan Lisiecki, 'Bill Murray, Jan Vogler and Friends', 'Thomas Hampson's Song of America project' – and VC Artists LGT Young Soloists and Chad Hoopes.