New Loan Platform Launched to Match Fine Instrument Owners with Young Soloists
It has been announced the launch of a new long-term rare instrument loan platform - set up to match dedicated benefactors with exceptionally promising young string soloists
It has been announced today in New York City the launch of a new long-term rare instrument loan platform - set up to match dedicated benefactors with exceptionally promising young string soloists.
Founded by Bruno Price and Ziv Arazi from Rare Violins of New York, 'In Consortium', as it will be known, will provide the infrastructure to allow benefactors, investors and fine instrument owners effortless and safe collaboration with young concert artists.
"In Consortium was started as a way to get more great instruments into the hands of more great players …" Company Chairman, Bruno Price has told The Violin Channel.
"We've seen in the past young players absolutely blossoming when given the opportunity to have a truly great instrument in their hands for a number of years … but sadly those opportunities have become fewer and fewer, so we had to find a way to do this," he has said.
"There are people who own fine instruments who have been nervous about loaning them out … but we are here to make sure the instruments are diligently matched with responsible and deserving talent and are properly cared for, insured and maintained … In Consortium is essentially the buffer and conduit to make this happen with surety …" Chief Executive Officer, Ziv Arazi has said.
"In addition on a business level, by loaning their fine instruments to musicians, benefactors are also provided with a number of ways to reduce their cost of ownership and increase the long-term realization of their investment," he has said.
As part of today's launch, it was announced the first fine instrument in the 'In Consortium' collection, the 1734 'Ames/Totenberg' Stradivarius violin will be loaned to 18-year-old American violinist, VC Young Artist Nathan Meltzer.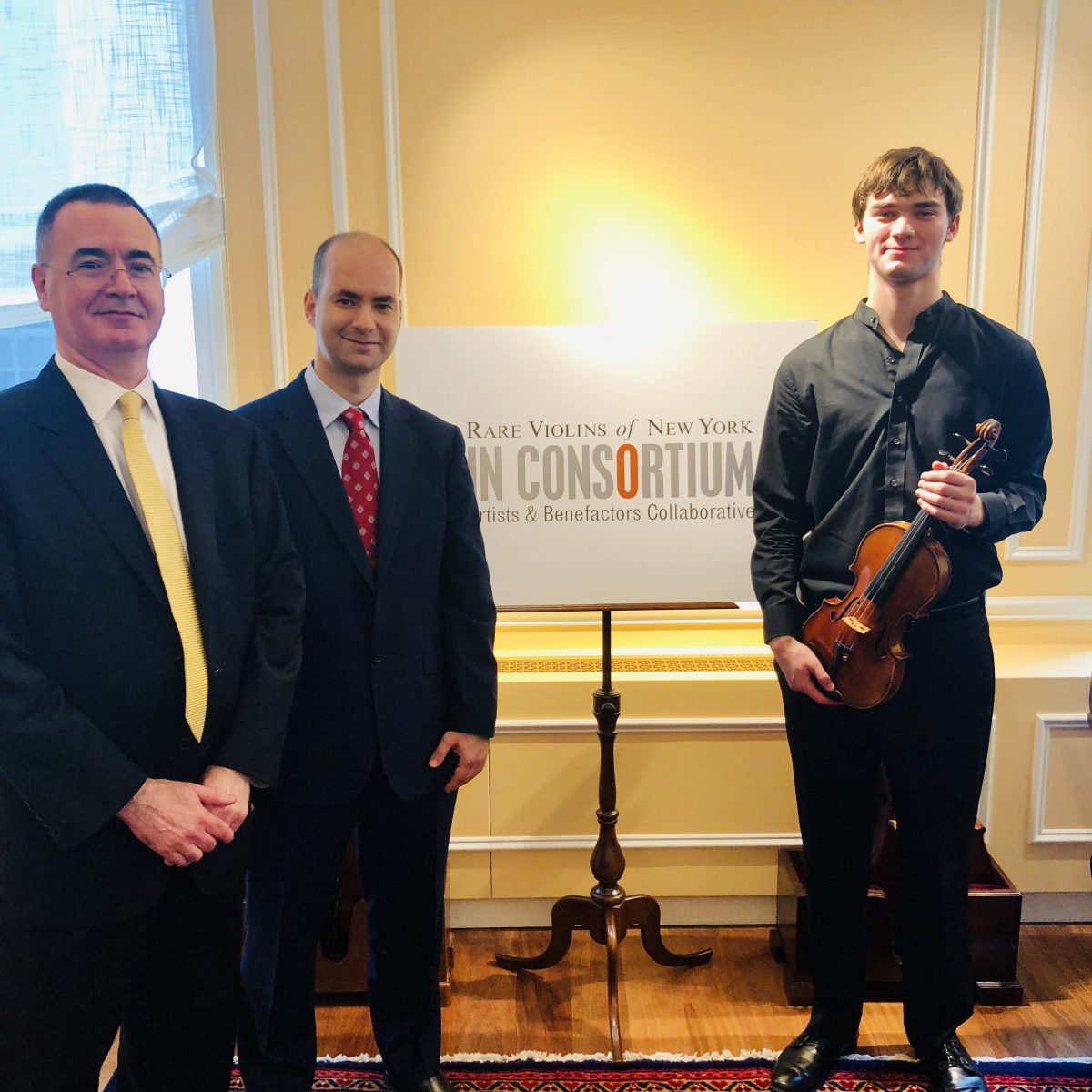 'IN CONSORTIUM' DIRECTORS BRUNO PRICE & ZIV ARAZI, TODAY - WITH VC YOUNG ARTIST NATHAN MELTZER
Loaned on behalf of the instrument's current owners, Amy, Jill and Nina Totenberg, the outstanding Stradivarius violin was formerly owned and played by the late virtuoso and renowned teacher Roman Totenberg.
A full scholarship student of Li Lin and Itzhak Perlman at The Juilliard School, Nathan was recently awarded 1st prize at the Windsor Festival International String Competition, in England - and in October of last year was signed to worldwide general management with Harzard Chase in London.
PICTURED: VC Young Artist Nathan Meltzer, with Rare Violins of New York 'In Consortium' Directors Ziv Arazi and Bruno Price - and 'Ames Totenberg' Stradivarius owners, Amy, Jill and Nina Totenberg