INTERNATIONAL DAY OF THE GIRL | Q&A with Conductor Jeri Lynne Johnson
The Violin Channel recently talked with multiple conductors at different stages of their careers to discuss what it means to be a female conductor in today's industry
We chatted with, Jeri Lynne Johnson, Founder and Artistic Director of the Black Pearl Chamber Orchestra.
At what moment did you realize you wanted to be a conductor? Who were your main inspirations and people who encouraged you?
I started piano at the age of four and loved it. But when I was seven, some friends of my parents took me to my first orchestra concert. It was a performance of a Beethoven symphony. While I can't remember which symphony, I do remember how it made me feel and that I did not see a piano on stage. I understood that if I wanted to play the music I was hearing, I was going to have to do what the man on the stage was doing —conducting the whole orchestra to make the music. I had some wonderful music teachers who gave me early opportunities to conduct as a college student, but I have to say, my main inspiration was the music itself and wanting to bring those sounds into the world any way I could.
What were the obstacles that you faced as an emerging young female conductor while building your career? Was it more difficult for you, do you feel, than your male colleagues?
The many obstacles I faced as a young conductor were no different from my white male colleagues. In the beginning, we all struggle to find opportunities to practice our craft with live musicians. I was blessed to be able to attend great schools — Wellesley College and the University of Chicago — that prepared me to lead as a woman and as a musician. I overcame these obstacles with resourcefulness and determination to find or create my own opportunities to lead ensembles and establish my reputation.
The one obstacle I was not prepared for was the industry's inability to accept even the idea of me — an African-American woman — as an orchestra conductor. Even with the same experiences leading top orchestras around the world, conducting world premieres, opera, chamber orchestra, etc., it was far more difficult for me to get hired than my male colleagues who fit the public's stereotype of a "Maestro."
What advice do you have for little girls and young women in your audience with their own aspirations of one day leading an orchestra?
I would tell them that biology is not destiny and to recognize your unique identity as a source of innovation. I would remind them that while they will need allies for guidance and assistance along the way, they don't need to wait for permission to act. I would also tell them to be prepared to make mistakes along the way and to be kind to themselves. To know that passion, preparation, talent, desire, and determination are more important than perfection for achieving your goals.
Jeri Lynne Johnson is the Founder and Artistic Director of the Black Pearl Chamber Orchestra. She founded Black Pearl in Philadelphia, PA as a model for the 21st-century American orchestras combining artistic excellence with cultural diversity and meaningful community engagement. Black Pearl has been recognized nationally and internationally as an award-winning leading innovator in social justice and racial equity. Ms. Johnson also established DEI Arts Consulting in 2015 as a vehicle to offer strategic and creative solutions for cultural institutions seeking to create a culture of belonging. In 2005 she made history as the first Black woman to win an international conducting prize when she was awarded the Taki Alsop Conducting Fellowship. Ms. Johnson has broken barriers in Europe and the U.S. as the first African-American woman on the podium for many orchestras and has conducted the Philadelphia Orchestra, Dallas Symphony, Bournemouth Symphony (UK), Weimar Staatskapelle (Germany), among others.
To help celebrate today's United Nations "International Day of the Girl," The Violin Channel, in collaboration with our good friends at the Dallas Symphony Orchestra, is hosting an all-day special online festival dedicated to gender equality and inspiring the next generation of women in classical music.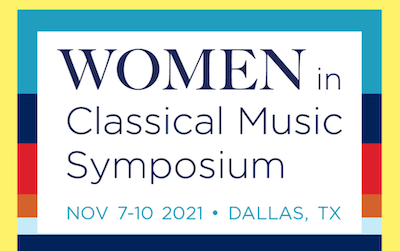 Presented by the Dallas Symphony Orchestra from November 7-10, the Women in Classical Music Symposium will be held in-person in Dallas, and will feature further talks and panel discussions on topics relevant to women in the classical music industry | This year's focus will be on "The Future is Female – Inspiring Women in Top Leadership Positions," and will also include a series of networking events, performances and opportunities for peer engagement | This year's featured guest will be Grammy Award-winning soprano Renée Fleming, who will receive the Symposium's Award of Excellence | To learn more and to register, visit: www.womeninclassicalmusic.com