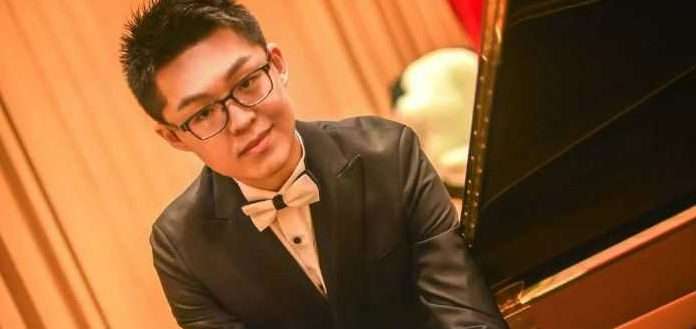 The Violin Channel recently caught up with 26-year-old Chinese-born composer Peng-Peng Gong, in Philadelphia - on the eve of the world premiere performance of his new 10th Symphony 'Peking Fantasy'.
The new 40-minute epic symphonic narrative will be led by conductor Kensho Watanabe with members of both the Philadelphia Orchestra and the Shanghai Philharmonic - as part of a special cross-cultural performance celebrating the 40th anniversary of diplomatic relations between the United States and China. 
What was your over-arching idea of inspiration for this epic new work, 'Peking Fantasy'?
"This work, my 10th Symphony, was inspired by the artistic power and themes of the amazing Chinese 'Peking Opera' - the crowing heritage of traditional performance art in China and one of our true national treasures.
'Peking Fantasy' originally began with the intension of being a 15-minute tone poem, but kind of grew out of control. At one point the piece, scored for 100 symphonic musicians, had expanded to 85-minutes in length - as there were just so many ideas and tangents I wanted to explore.
 Eventually after a preview concert in Shanghai last year, I had a much clearer vision of what was likely to have the best impact and I refined it to a single movement 40-minute narrative based on five 'Peking Opera' themes - mostly focused on the political struggles between warlords."
How did this incredible opportunity come to you, to write such an epic work of this scale, for two internationally acclaimed orchestras?
 "After graduating from the Juilliard School in 2014 as a pianist and composer, I was invited to serve as Resident Composer with the Shanghai Philharmonic - a position I have proudly served for the past 4 years.
During this time the Shanghai Philharmonic began this important cultural partnership with the amazing Philadelphia Orchestra - and luckily for me, it led to this incredible and brave co-commission."
What was your personal process for taking this work from ideas in your head to this week now being on stage performed by 100 musicians?
 "I began by dictating songs, themes and motifs from the major characters of the 'Peking Opera' … and I then allowed myself to experiment with various theme, variations and orchestrations.
 But ultimately I just let my creativity lead me … and then, through a process of refinement, allowed the work to be sculpted into what is being presented here this week."
As a Chinese-born artist, who has now spent a large proportion of your life in the United States, do you feel this work is a reflection of both of your cultural experiences?
"Absolutely … my life has certainly been a mix of East and West experiences - and this work most certainly reflects that.
I grew up in China listening to Chinese folk songs, often sung to me by my grandparents … and then when I moved to the United States I was exposed to the wonders of great orchestration, instrumentation and harmony.
You will see this, this evening." 
What do you hope the audience will take away with them from this week's performance?
 "I am ultimately hoping this work will spark more curiosity in the amazing 'Peking Opera'.
 It is so different from Western performance, often combining music, vocal performances, mime, dance and acrobatics, so i hope this can serve as a little window into its themes and spark interest in this unique art form."