VC INTERVIEW | Jason Price, Founder, Tarisio Fine Instruments and Bows - The 15th Anniversary
The Violin Channel recently caught up with Tarisio Fine Instruments and Bows Founder Jason Price, in London – on the 15th anniversary of the company's inception.
We sat down with Jason to discuss the highlights over the 15 years, the challenges, and the future of this revolutionary online fine instrument auction house.
Hi Jason. Thanks for joining us here on the Channel. Tell us a little about yourself.
"Hi VC. Great to be here.
I started out as a cellist, but I soon learned I was more interested in the instrument itself than in playing it. I began working with a violin maker in high school, and although I started a degree in English Literature, it became clear that I wanted to study violin-making further.
So I took a sabbatical from college after my first year and moved to Cremona, where I enrolled in the violin-making school. I stayed in Cremona for three years and during that time I made nine violins and learned the major styles and schools of violinmaking. But I think I always knew inside that I couldn't spend the next 40 years behind a bench and that my real interest was in the history of older instruments.
I went back to Williams College in Massachusetts and finished my degree, and it was after then at age 23 that I founded Tarisio – with my then partners Dmitry Gindin and Christopher Reuning."
Where did this idea to sell fine instruments online originate from?
"It was 1999, and eBay was all the rage. People were starting to become accepting of Internet commerce, so we thought, 'why not create an online auction for violins?'
It was the early days of the Internet, but it seemed like our idea could have potential.
In our first auction we sold around 60% of the lots, including a great Ferdinand Gagliano violin, which made us think the concept might actually work.
We put together a second and third online auction the following year, this time with a little more polish and refinement and with multiple viewings in different cities which were very well received.
We quickly realised though that the Internet was only the medium – that on its own it wouldn't magically sell violins. Buyers, we found – and this is still the case today – still needed to come to the viewings, play the lots they were interested in and meet us in person. But buyers were very happy to embrace the ease and convenience of completing a transaction online."
Looking back over the 15 years since you started the business, are there 1 or 2 highlights, Jason?
"The 1697 'Molitor' Stradivarius in 2010 was an important moment – all of a sudden Tarisio held the world record for the sale of the highest priced violin in the world.
I'm not sure how many eyeballs we had on us before that sale, but I know afterwards it ratcheted up by a factor of ten.
The other wow moment, I think, was when we were chosen to sell the collection of Isaac Stern in 2003 over Christie's and Sotheby's. I was only 26 at the time and Tarisio was less than three years old."
In 2010, you became the sole Director of Tarisio. How did this eventuate?
"My two former partners Dmitry Gindin and Christopher Reuning were great partners, but they also had their own interests beyond Tarisio and the time had come for Tarisio to have its own independence. It was certainly tremendously helpful having the expertise and connections that they brought to the business, particularly in the initial years, but I think past a certain point a company – especially one like Tarisio – needs a single-mindedness of purpose to truly propel it forward. 2010 was the right moment for all of us."
Tarisio was certainly the online pioneer, however in recent years the web has become a more readily embraced platform for the fine instrument auction market. How has this altered your approach?
"Competition is great – it keeps us all on our toes and creates a fair stable marketplace.
I like being in the position of challenger, as we were for many years to Christie's and Sotheby's before they stopped selling violins, but I also like now being in the position of being the market leader and continuing to push things forward."
Did you always have this entrepreneurial drive?
"I like to build and develop things, and I'm not afraid of taking risks or making mistakes; it is a huge part of the innovation process and the only way to move a company – and industry – forward."
What are you most proud of?
"I think one of the great strengths of Tarisio now is its people.
It is difficult to build a staff of people that you can trust, that you can rely on to build your brand and that share your ideology.
I feel we have created a team that is friendly, intelligent, accessible and a pleasure to work with, and I believe our buyers and sellers genuinely enjoy the experience."
What personally motivates you?
"Robert Bein once said that 'a violin shop is a life support system for a violin expert.' How are you to be an expert if you don't have things coming through your shop you can see, evaluate, understand and put an attribution on?
My personal ambition is to learn as many makers as I can, and cultivate the type of violin expertise which will continue to be valuable in the 21st century.
There are 2000 attributions per year here at Tarisio which I am responsible for – it certainly provides enough training for me!"
When someone is buying an instrument online, what advice would you give?
"I don't think there are any special rules for buying something online, as opposed to offline. The internet is merely a vehicle to complete the transaction.
Three things hold true for a musician or collector buying an instrument, anywhere: 'authenticity', 'condition', and 'do you love it?'...all three must be separately answered.
It is very easy to fall in love with an instrument that sounds amazing but then make a terrible financial mistake, or fall in love with something because it is something, but it's in awful condition.
It is imperative to get all three factors in line, and have patience until you find the right instrument that ticks all the boxes."
We've witnessed the steep incline of the Tarisio brand over the past 15 years. Are there any innovations that didn't quite work?
"It's a long list – I promise.
The auction we put on in Korea in 2000 was a quintessential flop. We were one year old, and were completely unprepared and had very little understanding of the local culture or violin market.
There are so few things in life that are unequivocally good or bad – most things fall into a shade of grey – but this one was pretty clearly a failure...
And we won't be making that mistake again!"
And finally, what is next for Jason Price, personally and for the Tarisio brand?
"The past three and a half years, I have been spending a lot of my time in London – as Tarisio Europe was our growth point. But moving forward I would like to split my time more equally between London and New York.
For Tarisio, we have been doing a lot of effective international satellite viewings recently, from Los Angeles and San Francisco, to Zurich and Cremona, and this will continue to be a major focus of our business. We have also moved into fantastic new premises in London a few doors down from the Wigmore Hall. When the full space opens in 2015, we will have a gallery space, walk-in vault and professional trial rooms which will greatly increase our European offerings.
As global and connected as this market becomes, I believe violin sales can still be a local enterprise. It is this balance between international, online auctions, and a local, personal presence that I aim to achieve for Tarisio."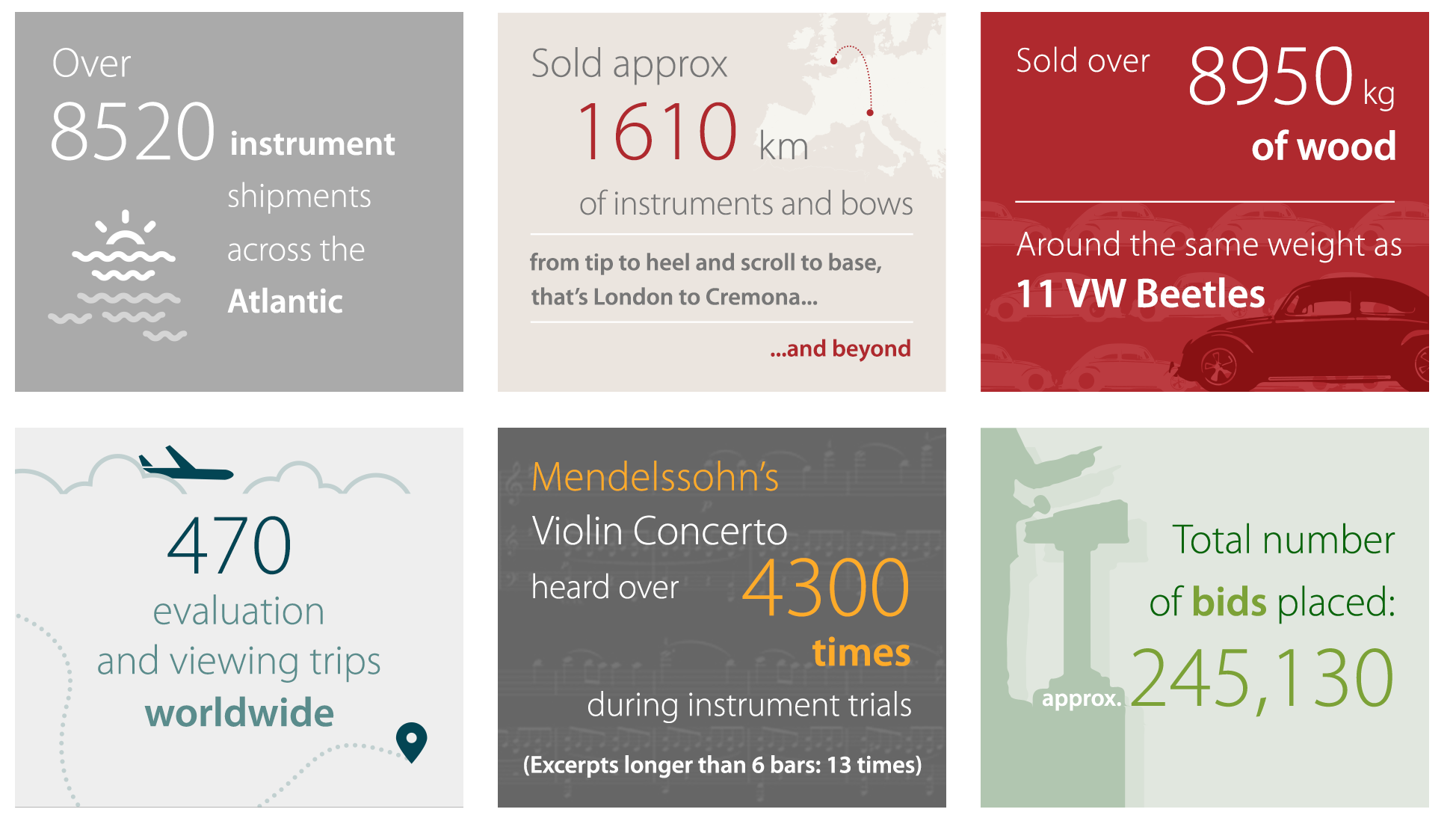 TARISIO 15 YEARS: INTERACTIVE TIMELINE, TRIVIA AND SALES GRAPHS CHRONICLING TARISIO'S FIRST 15 YEARS OF ONLINE AUCTIONS