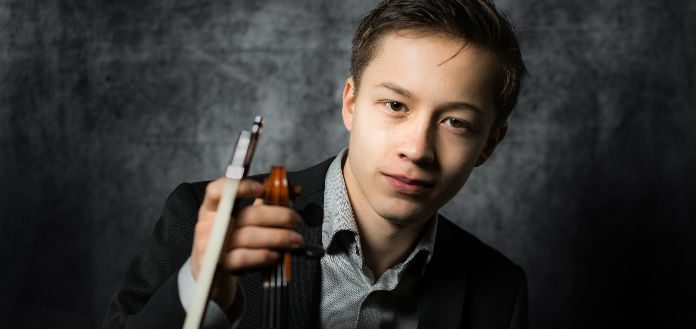 The Violin Channel this week caught up with 17 year old Swedish violinist, VC Rising Star Johan Dalene – who was recently awarded 1st prize at the 2017 Thomas & Evon Cooper International Violin Competition, in Ohio, United States.
In a VC-exclusive blog, Johan talks us through his experience at this year's competition.
"I've known about the Cooper competition for a few years, and I've heard a lot of positive comments about it. Several people, including my teacher Per Enoksson, recommended me to apply. 
There are a lot of violin competitions in the world, but one of the things that really stands out with the Cooper competition is that you get to play with The Cleveland Orchestra in the final round. This was one of my big dreams, so I decided to apply. I was very happy that two of my Scandinavian friends and I got accepted.
When I came to Oberlin for the competition, I was very excited and a bit nervous. It was my first time in the US, so this was a very thrilling experience in all ways for me. Since the moment I arrived at the Oberlin College (which was the place for the competition), I could feel how great the atmosphere was. Even though it was a competition, all competitors and parents were very friendly and kind, and I was very happy to meet a lot of wonderful friends there! Also, everything was very well organized.
The first competition days were intense. Since I got a late number for the first round, I performed three rounds for three days in a row, so there wasn't that much time to rest in between. It was intense but also really fun, especially having so many amazing people around me, including my friends, parents and a great pianist Elizabeth DeMio that I played with in the first three rounds.
When I got into the finals, a dream had really come true. I was going to perform my favorite violin concerto (Tchaikovsky) with one of the best orchestras in the world: The Cleveland Orchestra.
Before the final round we had a day off for resting and rehearsing with the conductor Maestro Jahja Ling, who was very supportive and made all three finalists feel really comfortable. In the rehearsal, all my expectations about the orchestra were proven to be true. They followed everything you did so well, and when they played the orchestral theme in the first moment, I got goosebumps.
Since I was playing last in the finals I decided to get some sleep in the middle of the day, just take it easy and not practice too much for the performance. I've played the Tchaikovsky a lot, so I feel pretty comfortable playing it and I just tried to enjoy the performance as much as I could. When I later that evening got awarded the first prize it almost felt surreal. I am so honored, especially since the level is super high at the competition and that there were so many wonderful violinists here.
After this competition, I spent a few days of vacation with my parents in New York before going back to my hometown in Sweden: Norrköping. Next season I have many exciting concerts including playing Barber violin concerto and Brahms double concerto with orchestra for the first time! I am especially looking forward to starting the Norwegian soloist mentoring program called "Crescendo", where I will be given the opportunity to play chamber music and learn from some of my biggest musical idols: Gidon Kremer, Leif Ove Andsnes and Janine Jansen.